A couple in Sheridan, Wyoming, was excited to learn they were expecting a new baby earlier this year. But after they received their first ultrasound, they were stunned.
"We went in and the doctor scanned and got a serious look on his face and went, 'Oh, there are twins," Dustin Olsen said. "And we're like, 'OK, that's OK.' Then he says, 'Oh, wait there's triplets.' Then he says, 'OK, I think I hear another heartbeat.'"
Olsen's wife, Heather, said she could barely make sense of the doctor's words.
"The whole car ride home, I just kept counting one, two, three, four on my fingers and I just couldn't believe it," said Heather Olsen.
The Olsens said it didn't truly sink in that they were having quadruplets until the babies were actually in their arms.
"When they gave me the four to hold in my arms for a picture, I was like, 'this just doesn't seem real,'" said Heather Olsen. "All four of these are my kids. It was amazing."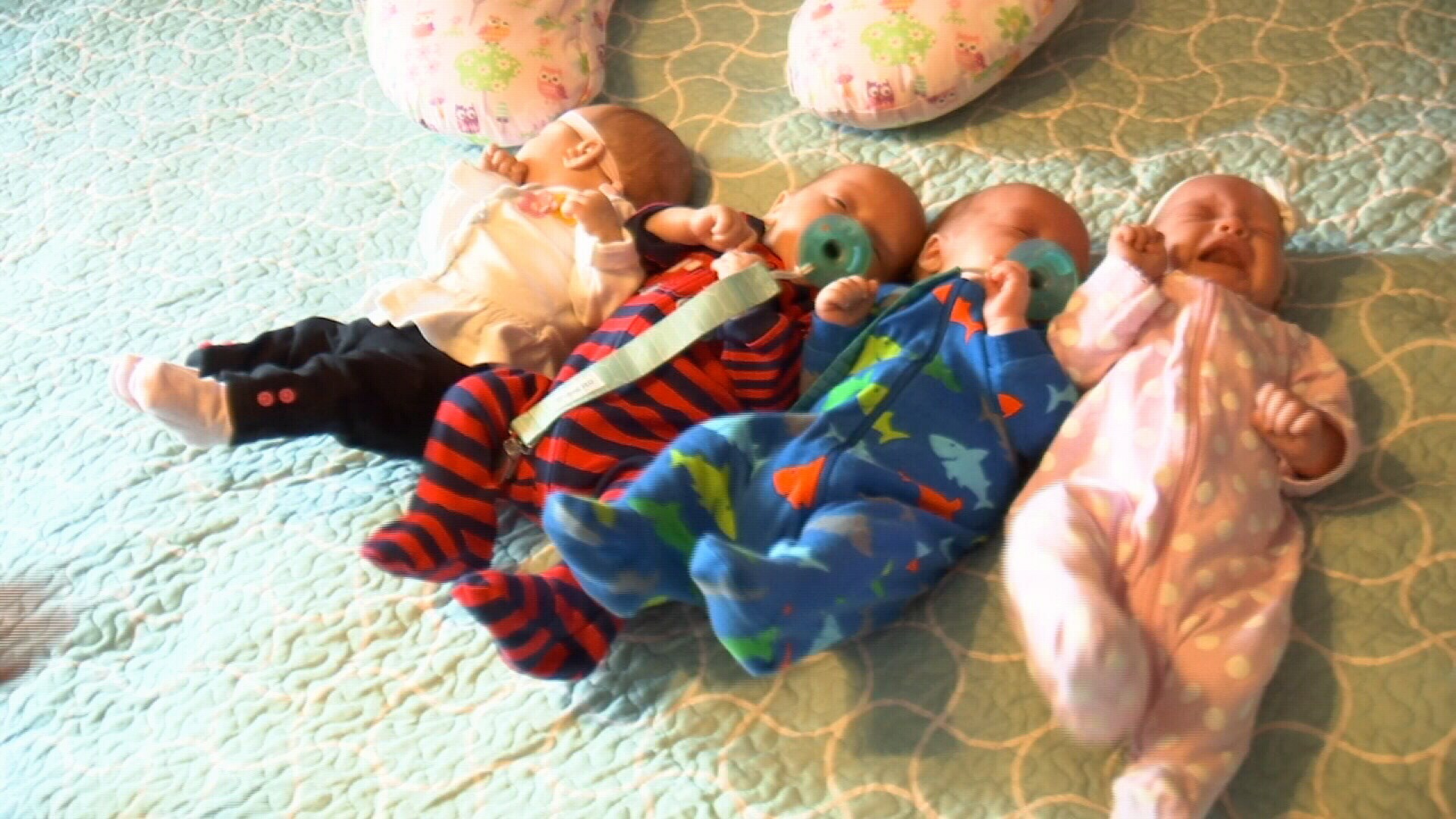 The babies were born premature at 32 weeks, so they had to stay in neo-natal intensive care for close to four weeks before going home. Luckily for the Olsens, their insurance covered the $3.5 million hospital bill.
On the way home to Sheridan, the Olsens stopped at a restaurant for lunch.
"There were lots of people at the restaurant we were at who were curious," said Heather Olsen. "And there were people who asked if they could take pictures of them."
It's an experience that Heather Olsen expects her family will relive for years to come.
Almost every night since they've been home, the Olsens have received homemade dinners and other supplies from members of the Sheridan community.
"I think we will always be known as the family with the Olsen quads," said Heather Olsen, who has already received lots of attention at the grocery store and doctor visits.
It's a new normal that the Olsens anticipated with caution. Many pregnancies involving quadruplets have complications.
But in October, they brought home four healthy babies: two girls and two boys.
The couple's two older boys, 4-year-old Kellan and 6-year-old Aiden, were excited two meet their new brothers and sisters.
"The boys rock them and hold them," said Dustin Olsen.
"I like to put pacifiers in their mouths," said Aiden Olsen. "And hug them."
Life as the Olsens knew it before has been flipped upside down.
"It's very busy around here," said Heather Olsen. "We live in four-hour increments. We change them, feed them, play with them, wrap them up and lay them down and do it all over again."
The Olsens go through 36 bottles and at least 24 diapers each day.
It's a reality these two teachers never would have expected when they met in 2005, and one that almost didn't happen.
"With all of our children, we did have trouble getting pregnant, so we did use fertility treatments. But we didn't use IVF (in vitro fertilization) or IVI (intravaginal semination)," said Heather Olsen.
"I never would've thought we'd have six kids, let alone quads, but I can't imagine our life any different now," said Heather Olsen. "From the minute they were born, it has always seemed to fit."
"I'm 33, so by 50 they will all be in college… or our basement," said Dustin Olsen.