There have been dozens of crashes and slide-offs due to icy roads across parts of Montana.
Several of the crashes happened along I-15 near Hardy Creek, between Craig and Cascade, on Thursday afternoon.
According to the Montana Highway Patrol, none of those crashes resulted in serious injuries.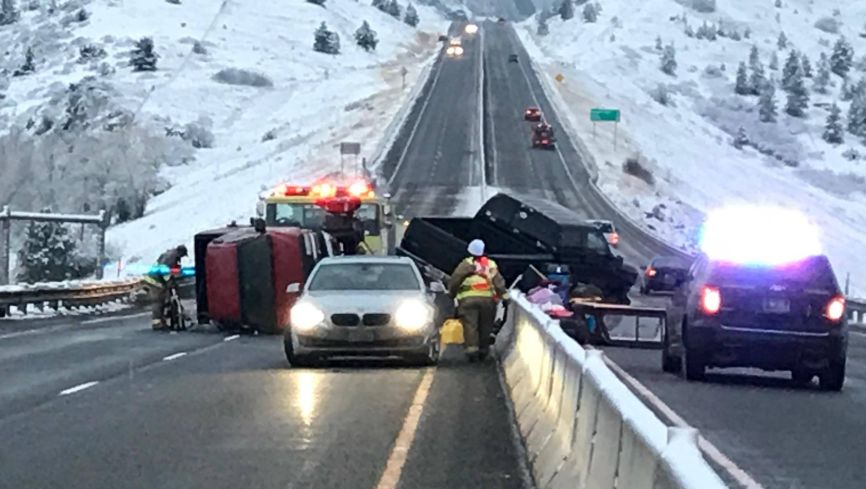 An MTN reporter arrived at the scene of a crash near mile marker 246; an MHP trooper said that a north-bound black pickup was towing red vehicle and lost control on the icy bridge.
The crash resulted in the closure of the highway as emergency crews work to clear the scene.
The MHP said that there were no serious injuries in that crash.
The icy roads are due to the snow that began falling overnight and continued into Thursday.
Unfortunately, the travel troubles are likely to continue for drivers hitting the roads this weekend.
The National Weather Service has issued Winter Storm Warnings and Winter Weather Advisories for most of the Treasure State through Saturday, meaning wintry weather will create hazardous travel conditions.
The STORMTracker Weather Team says areas of light snow and snow showers are expected through Thursday night, especially along the Rocky Mountain Front and the Hi-Line of northern Montana.
By Friday morning, an area of low pressure developing along the West Coast will advance eastward, spreading more snow across the Northern Rockies.
Periods of light-moderate snow are likely beginning Friday morning and ending on Saturday morning.
Winter weather resources from MTN:
Live Interactive Radar
MTN Eyecam Network
STORMTracker Weather on Facebook
STORMTracker Weather on Twitter
---
The Montana Department of Transportation has tools to monitor road conditions:
Click here for current Montana road conditions
Click here for an interactive map
Click here for the mobile app
The Montana Department of Transportation recently launched a project to provide people with online photos from cameras mounted on 10 snowplows at various locations across the state. The "plow-cam" images are available on the traveler information map website when a camera-configured plow is active on Montana highways. The images are taken approximately every half mile and are available for viewing for between 30-45 minutes.