BILLINGS - The man shot and killed by Billings police during a standoff that lasted nine hours at Big Bear Sports Center was identified Monday at a press conference that outlined the timeline of the incident.
Billings Police Chief Rich St. John identified the dead man as Frank Joey Half Jr., 30 of Crow Agency.
Half, who has a lengthy criminal history, had most recently been living in Butte where he was in a pre-release program, according to St. John.
An autopsy was set to take place at the Montana State Crime Lab on Monday morning to determine how many times Half was shot and whether he was under the influence of drugs or alcohol.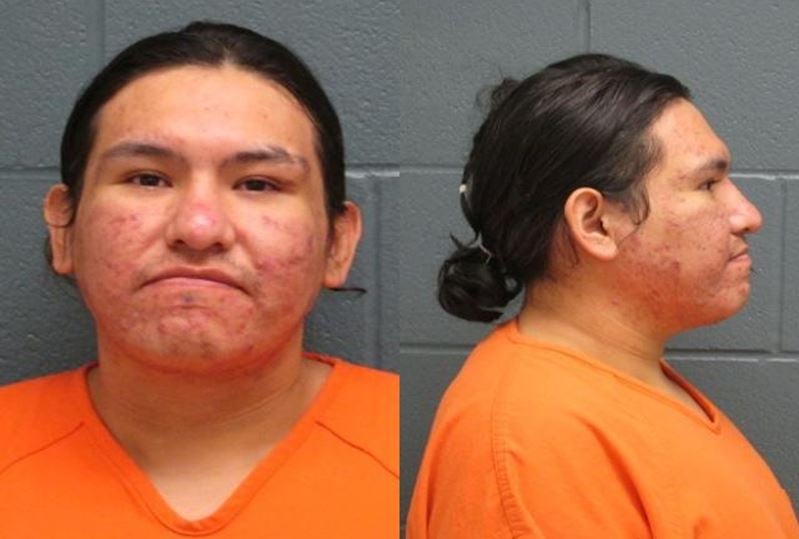 (Frank Half Jr.)
A total of 58 officers responded to the scene. St. John said eight officers, which is one more than originally reported, fired shots at Half.
The officers were identified as: Sgt. Harley Cagle, with BPD 14 years; Sgt. Brandon Wooley, with BPD 10 years; Sgt. Nate West, with BPD 10 years; Officer Steve Swanson; with BPD 21 years; Officer Tanner Buechler, with BPD 10 years; Officer Daren Haider, with BPD 8 years; Officer Michael Yarina, with BPD about 8 years; and Officer Ryan Kramer, with BPD 3 years.
This is Swanson's third shooting incident, according to BPD.
All eight of the officers who fired shots at Half are one administrative leave.
St. John said the timing of the incident presents a challenge to the department because two officers are still on administrative leave from a shooting at the Lazy KT Motel in Downtown Billings last month.
"I expect them to be back on duty sometime this week or next week, so that should help us," said St. John.
St. John provided further details of the timeline of Saturday's standoff, which he said mostly remained the same as what was initially reported.
Employees at Walmart on King Avenue told officers they had an altercation with Half when he reportedly tried to steal firearms from the business.
Half left Walmart in a red Mercury SUV and drove across the road to Big Bear, where he reportedly drove his vehicle into the front entrance of the store some time before 3 a.m.
Officers responded to the scene and could not immediately locate Half, who was hiding in the store.
Backup was called, along with members of the bomb squad and SWAT.
Authorities used a large vehicle, called the Bear, to pull the SUV out of the front entrance and block Half inside, according to St. John.
During that time, officers reported hearing gunshots fired inside the building from small and large caliber firearms.
Officers deployed multiple non-lethal tactics, such as deploying pepper-spray and the use of an LRAD, which is a device that emits a high pitched screech sound.
"We wanted to make him uncomfortable enough that he would come out but he did not," said St. John.
Half appeared in the entrance with a firearm and officers fired shots at him, though St. John said it's unknown if at that time Half fired shots.
Half retreated back inside and officers tried to negotiate with him.
St. John said all attempts to speak with Half resulted in silence and a hang-up.
Half emerged at the front entrance again and began firing at officers, according to St. John.
At one point, Half reportedly fired a shotgun round into the windshield of the Bear where the negotiator was seated.
Half once again rushed back inside the building and was not visible to officers.
"The suspect later unexpectedly announced he would come out east side," said St. John. "He came out and complied but then retreated and emerged with a gun."
That's when St. John said Half exchanged gunfire with officers.
St. John believes this encounter may have resulted in Half's death.
About 30 minutes later, officers sent a robot inside and determined Half was dead.
Officers then went inside the building with a K-9 unit and confirmed the suspect was dead around 1 p.m.
St. John said there's no indication Half took his own life and St. John believes officers fired the deadly shots.
No officers were injured in the incident.
"We tried to end this peacefully," said St. John. "But it was not possible. This incident presented of the most difficult situations imaginable. The suspect had access to unlimited resources and refused to negotiate with us. I'm heartbroken and sickened about what happened to Big Bear, but when you weigh that against someone getting killed, I believe we acted appropriately."
St. John said it does not appear Half had his own weapons and that every firearm he used belonged to Big Bear.
"In these situations, our officers are victims of violent crime," said St. John, who added that the officers involved would undergo a mental health evaluation before returning to duty.
St. John estimated the officers would be back on duty by next week at the earliest.
Big Bear has been returned to management.
"The amount of damage there is significant," said St. John. "Damage caused both by the suspect and us. But (Big Bear management) was nothing but concerned for our officers."
CORRECTION: BPD initially said Half was recently an inmate at the Great Falls Pre-release Center, but later said he was at the Butte Pre-release Center.
RELATED: Suspect killed after standoff with police at Billings sporting goods store