Brooke Lynn Crews has pleaded guilty to the murder of Savanna LaFontaine-Greywind.
Crews pleaded guilty in Cass County Court on Monday to charges of conspiracy to commit murder, conspiracy to commit kidnapping, and providing false information to police.
Crews is one of two defendants accused of killing 22-year-old LaFontaine-Greywind and abducting her newborn daughter in August.
Sentencing for Crews is set for January 16; she could face life in prison.
The other defendant is Crews' live-in boyfriend, William Hoehn.
Crews was arrested on August 24 in the North Fargo apartment she shared with Hoehn, upstairs from the apartment where LaFontaine-Greywind lived.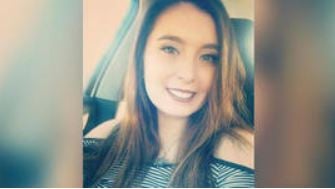 Police said Crews was found with a healthy newborn baby girl, and DNA tests later proved the baby belonged to LaFontaine-Greywind.
Hoehn was arrested later the same day at his place of employment.
LaFontaine-Greywind disappeared on August 19 while eight months pregnant after going upstairs in her apartment building to help Crews with a sewing project.
Her body was found eight days later in the Red River.
Police said her death was caused by "homicidal violence."
Hoehn's trial is set for March.
---
(AUGUST 23, 2017) A woman from the Fargo-Moorhead area hasn't been seen since Saturday.
Savanna Lofantaine-Greywind, 22, was last seen at her apartment in North Fargo on Saturday afternoon.

She is 5'4", Native American and 8 months pregnant. The Fire Department with the help of helicopters searched the Red River but did not locate the woman.

"We don't have a single theory at this point of what happened. At this point we don't have any information to suggest that there's any criminal conduct or criminal activity that's involved, but that doesn't mean that that won't develop in the future," said Joe Anderson of the Fargo Police Department.
Police are urging anyone with any information to contact them immediately.