On Monday, December 11th, Stacy Micheletti was shot and killed by police officers in Great Falls.
Melanie Edmonds and her daughter Preslee were there when it happened, and talked on Friday with MTN News reporter Margaret DeMarco.
Melanie has known stacy for half her life: "One of my best friends. We had dated for awhile."
For Preslee, micheletti meant even more: "He is like my dad and I have always called him dad."
Edmonds says the micheletti she knew was a fun-loving guy who would never hurt any one: "He wasn't a bad guy. He made mistakes like we all do."
Recently, Edmonds and her children had noticed that micheletti had changed: "He was not himself, he had been hearing voices and seeing people."
She says she tired to reason with him about the "People" he said he was seeing: "There was no talking him out of they were not there. They were real and that was it. So I just let him talk. All day sunday I had just let him talk."
Edmonds says she does not know what happened from the time he left her house sunday night until she picked him up Monday morning: "He had called me and said he was being chased by somebody. I am thinking the people he had been seeing. He was scared and he needed a ride."
Edmonds and her daughter picked him up near the montana egg facility on 38th street north.
She says micheletti asked her to take him to his car near the soccer fields: "So we pull up to his car and I had seen these cops coming from the parking lot of the building where it was at. He got out of my car and stepped back towards it and then just got out. He left the door open and walked to the front of his car."
Edmonds says by the time micheletti reached his car, the police had guns drawn and were shouting directions.
Edmonds says micheletti looked confused: "I did not feel they were in a threat at all. He didn't say anything, he got out of my car and was scared, you could tell that. He had the gun pointed at the ground, I didn't even know he had the gun with him. He had told me the day before he had bought one."
Edmonds says micheletti had told her the gun was fake and he was going to use it to scare the "People" he was seeing.
Preslee says when she rolled the window down she saw the gun by Micheletti's side: "I was just screaming at him, 'dad, drop the gun!' and they were screaming at dad to drop the gun. I saw them lift their guns and I rolled the window up, then they started shooting."
Preslee said once the shooting had stopped she opened the door and fell out of the car: "A cop came behind me from under the door and grabbed my ankle. He drug me across the gravel. As they had me on the ground I was right next time him. Then they handcuffed me and separated me from my mom."
Edmonds was handcuffed and place into another patrol car at the scene.
She believes that micheletti never realized how serious the situation was when they picked him up: "It was unreal. It's still unreal."
---
The Great Falls Police Department on Thursday released the names of the four officers involved in the fatal shooting.
The officers are Sergeant Robert Beall, Senior Police Officer Kristi Walker, Police Officer Kevin Kelsey, and Probationary Police Officer Zaine O'Meara. Beall has been with the GFPD for more than 15 years; Walker for more than five years; Kelsey for more than one year; and O'Meara since January 2017. All four are on administrative leave as the Division of Criminal Investigation continues its investigation into the shooting.
Micheletti, 51 years old, was shot in the area of 10th Avenue North and 52nd Street; he was taken to Benefis Health System where he was pronounced dead.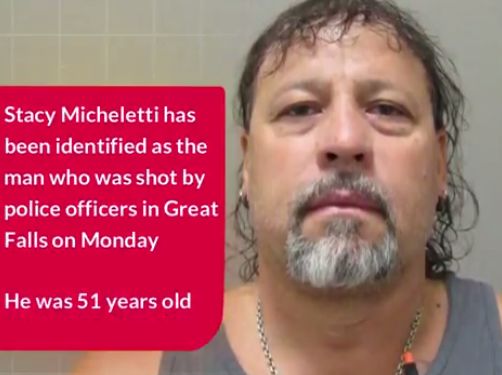 Just before 5:30 a.m., the 911 Dispatch Center received a call about Micheletti, who reportedly was at or near the home of his ex-wife. When contacted by police, Micheletti denied any suicidal thoughts and said he was just at the house grabbing cleaning supplies, according to the 911 Dispatch call log.
At about 9:25 a.m., someone called 911 to report that a man was in the bushes of a yard on the north-northeast side of Great Falls, in the vicinity of Morningside Elementary School. The caller said that the man had a gun. Contractors who were working nearby also reported the man to 911, and also said that he had a gun, and had pointed it at the original caller. The original caller also said that the man had left behind a backpack. Micheletti's name was found inside or on the backpack, according to the 911 Dispatch log.
At 9:31 a.m., officials put Morningside Elementary School in "shelter in place' mode as a precaution.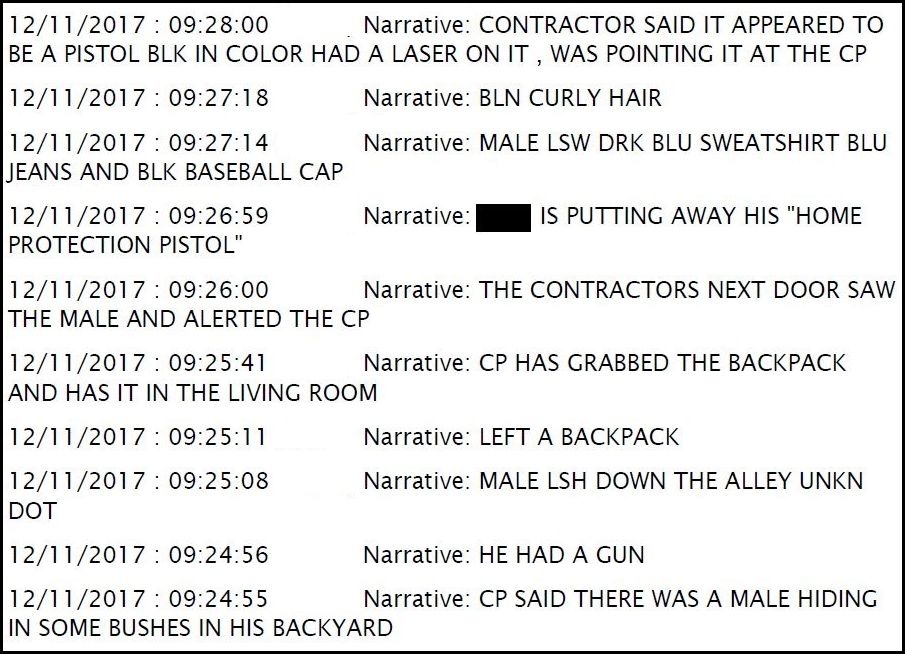 Police officers began searching the area to find the man.
The 911 Dispatch logs state that Micheletti was: "(possibly) very high on 'something' and made statements to employer that he was on the run from his (Probation & Parole) officer."
When officers located the man - later confirmed to be Micheletti - he brandished a weapon, according to GFPD chief Bowen, and was shot and killed. None of the officers were injured.
Bowen has so far declined to say what kind of weapon Micheletti had, and did not say how many times he was shot. The body is scheduled to be taken to Billings for an autopsy by the Montana State Medical Examiner, as required by Montana law.
As is standard in such situations, the GFPD requested assistance from the Division of Criminal Investigation of the Montana Department of Justice. In accordance with Montana Code, Dick Brown, the Fergus County Coroner, has been was called in and will assume the duties of Cascade County Coroner for this case and the required inquest.
Bowen said in a press release: "We recognize this is a difficult time for the officers involved, as well as our entire agency. We want each of them, and their families, to know how much we support them. As peace officers, taking a human life is something we pray we are never forced to do; however, in the course of our responsibilities, this may become necessary."
According to the Montana Department of Corrections, Micheletti had convictions in Cascade County on charges of sexual intercourse without consent, burglary, and robbery.
We will update you as we get more information.
The last shooting of a suspect in Great Falls happened in September 2017, when Thomas Jordan Addison was shot and killed. The officers involved were Master Police Officer Tad Kimmet and Senior Police Officer Adam Stergionis.
In April 2017, Kevin Parisian was shot and injured by Master Police Officer Tad Kimmet.