Montana-made products are in high demand especially food products and this year the Montana Department of Agriculture hosted the first annual Montana Food Show in Bozeman.
"It's cool to see people taking those raw ingredients and turning them into breads, hummus, spreads, and drinks and really showing people how delicious our Montana foods are," MTDA Business Development Specialist Steph Hystad said.
At the food show in Bozeman, the MTDA brought local food producers and their Montana made products to one location for display.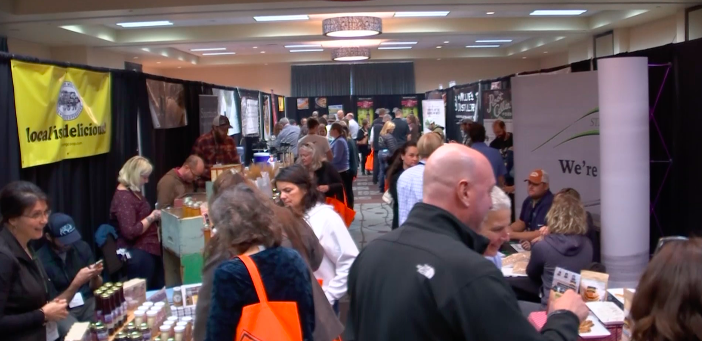 "We know Montana agriculture is diverse and delicious," Hystad said. "So we tried to get a good assortment of different companies here so that restaurants, schools, grocery stores, and anyone who wants to source local food can find it here."
More than 40 Montana fresh produce, meat, food, and spirit companies showcased their products with the goal of getting more Montana foods and beverages on Montana plates and in Montana glasses.
"The Department of Ag is hugely benefiting us because they're allowing us to get out in front of a ton of people and it's not something we would do on our own" Ashley Callahan with Bear Paw Meats from Chinook said.
To some, having a direct relationship with the farmer and rancher and knowing where food ingredients come from is also important.
"We are supporting each other in our local businesses and trying to promote each other within the state and beyond and that relationship is extremely important that we use Montana products to make our bread" Connie LeHocky with On the Rise Bread Company located in Bozeman said.
And buyers agree that local food is what it's all about these days.
"Day to day it's something different," Kent Rising with Summit Distribution in Bozeman said. "Guys are always looking for something different that the bigger national food chains may not have. So we're able to make that local connection with the local rancher and processor."
Local farmers, ranchers, and small businesses are doing some incredible things with their Montana made products.
Sometimes they're too busy making food to market themselves and that's why the Montana Food Show is a great event.
With the holiday season here, the Montana-made food products make great holiday gifts.
To see a complete list of this year's Montana Food Show participants, visit the Montana Department of Agriculture's website.