The bail amount for Michael Echeverria has been raised due to the seriousness of the changes he is facing.
Echeverria was charged with kidnapping and assault in September.
Judge John Parker raised Echeverria's bail to $500,000, and also ordered that he not leave Cascade County.
During the bail hearing on Wednesday, Detective Katie Cunningham of the Great Falls Police Department testified that after the last hearing, Echeverria's friend, Robert Fuentes, contacted the victim.
Fuentes told the victim that Echeverria's family was very upset with with him.
Cunningham recounted, "Robert had told her that they have evidence against her in this case and they do not want to show it in court, but they will. He indicated that when they do that, it is going to [mess up] her life. He said that when her deception is shown in court that she will be charged with a felony. He continued to say, 'The family and I want this to be over.' He tried to have a conversion with her about what that would take to make this go away."
After the hearing, Fuentes was arrested for tampering with a witness.
Fuentes had traveled to Great Falls with Echeverria's sister and father to testify on Echeverria's behalf.
If Echeverria is released on bond, he will be under house arrest and on GPS monitoring.
He also has to forfeit his passport before he can be released from jail.
The trial has been scheduled for March 5th.
---
(SEPTEMBER 8, 2017) Michael Echeverria made his initial court appearance in Great Falls on Friday, charged with several felonies for reportedly assaulting a woman and stealing her purse at the Best Western Heritage Inn in Great Falls.
According to court documents, a police officer was called to the hotel about a reported disturbance. When the officer arrived, he found Echeverria in a hallway - already handcuffed by another officer, and with a purse strapped over his shoulder.
After entering the hotel room, the officer found a woman naked on the floor and covered in blood. The woman had a laceration near her right temple.
There was blood spattered on the floor, walls, and furniture of the room.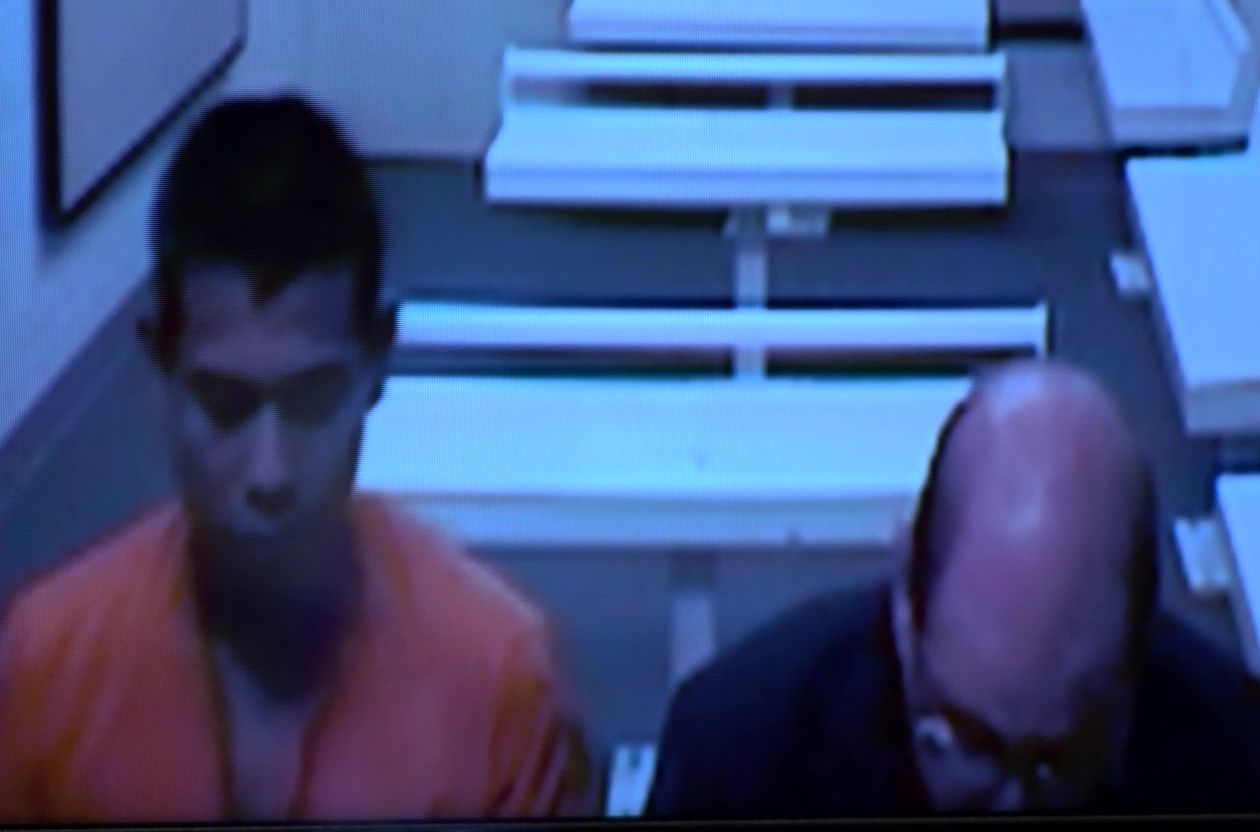 The documents state that after the woman was taken to the hospital, she reported having been in a relationship with Echeverria for four years and being separated for about the last six weeks.
The woman and Echeverria argued, which escalated into a physical fight.
The documents state that Echeverria pulled the woman from the bed and hit her with his fists.
As she tried to leave the room, he knocked her down and hit her stomach, chest, face, and arms.
Witnesses in neighboring rooms reported hearing violent noises, screaming, profanity, and furniture breaking.
Court documents state that the victim has "multiple injuries all over her body."
Authorities also learned that Echeverria had made threatening phone calls to the woman's family, and the woman could be heard screaming in the background.
Court documents also state that the victim's sister received text messages from the victim's phone which stated: "your scum (sic)," "death to all white scum," and "death to your children."
Echeverria has been charged with three felonies including aggravated kidnapping, assault with a weapon, and robbery, as well as misdemeanor partner/family member assault, misdemeanor theft, and misdemeanor "privacy in communications" charge.
Prosecutors requested that bond for Echeverria be set at $150,000.