A northbound semi truck on I-15 slid off of the highway, through a guardrail, and down a hill into residential area near the Great Falls Marketplace.
It happened at about 8:45 a.m. on Wednesday. According to the Montana Highway Patrol, there were no serious injuries.
Emergency crews responded to the scene near the intersection of Big Ranch Road and Park Garden Road.
There was no damage to any of the houses.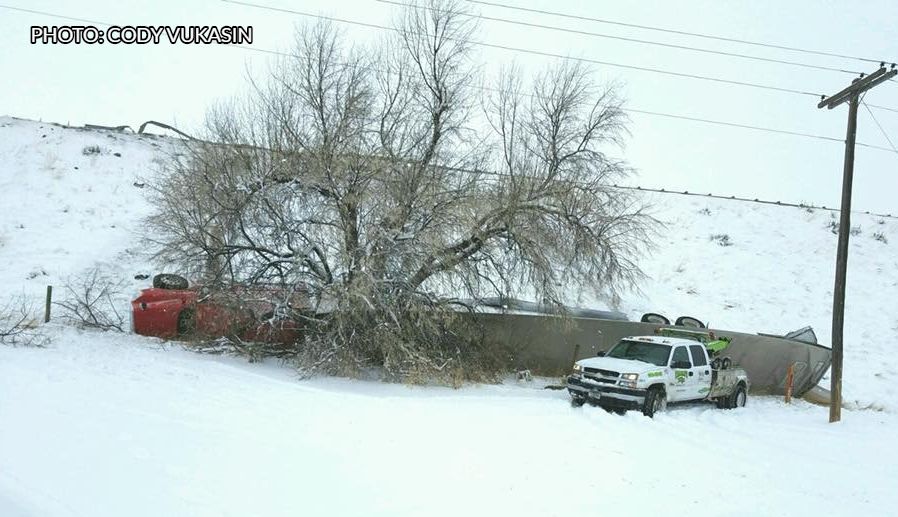 Terri Mills posted on the KRTV Facebook page: "My husband was just coming down Gore Hill and semi ahead of him jack knifed and went through the barrier and rolled down the hill landing behind that first house down there."
Rhesa Bulen posted: "The driver is ok. I was right behind him coming down the hill when it happened, scariest thing I've ever seen! Called 911 right away and went and checked on him. They did have to cut him out of the cab though."
The MHP has not yet determined the cause of the incident.
Hazardous road conditions caused numerous slide-offs and minor crashes throughout the day.
Responding agencies included Great Falls Fire Rescue and Gore Hill Fire Rescue.
---
Winter weather resources from KRTV:
Live Interactive Radar
MTN Eyecam Network
STORMTracker Weather on Facebook
STORMTracker Weather on Twitter
---
The MT Department of Transportation has tools to track road conditions:
Click here for current Montana road conditions
Click here for an interactive map
Click here for the mobile app
---