The Montana Millionaire winning numbers were drawn on Friday, and the grand-prize-winning ticket was sold in Butte.
The million-dollar ticket number is 024279.
There were also three tickets worth $100,000 each; one was sold in Butte, and two were sold in Great Falls. The winning numbers are 083597, 023452, and 147877
There were five $10,000 tickets sold; two were sold in Billings, and one each was sold in Glasgow, Laurel, and Hamilton.
The 150,000 Montana Millionaire tickets sold out on December 15th, which set a record as the fastest selling for the game, which is now in its 11th year.
The winning numbers were chosen by a Random Number Generator (RNG) computer that has been certified to use by the Montana Lottery.
Before the machine can be used for the drawing of numbers, it had to go through rigorous testing to ensure the numbers were truly random.
Montana Lottery communications director Jennifer McKee says that this is always an exciting day because this program was designed to make a Montanan a millionaire.
"Every year it's always so exciting," said McKee, "The day we draw the actual winner is just a fun day around here because somebody is going to be a millionaire at the end of today."
The Lottery also announced the 77 additional instant win ticket numbers that were not drawn correctly earlier this month due to an operator error.
You can see all of the winning ticket numbers on the Montana Lottery website. The site crashed earlier in the day, and loading continues to be slow as a surge of people have been trying to access it throughout the day.
---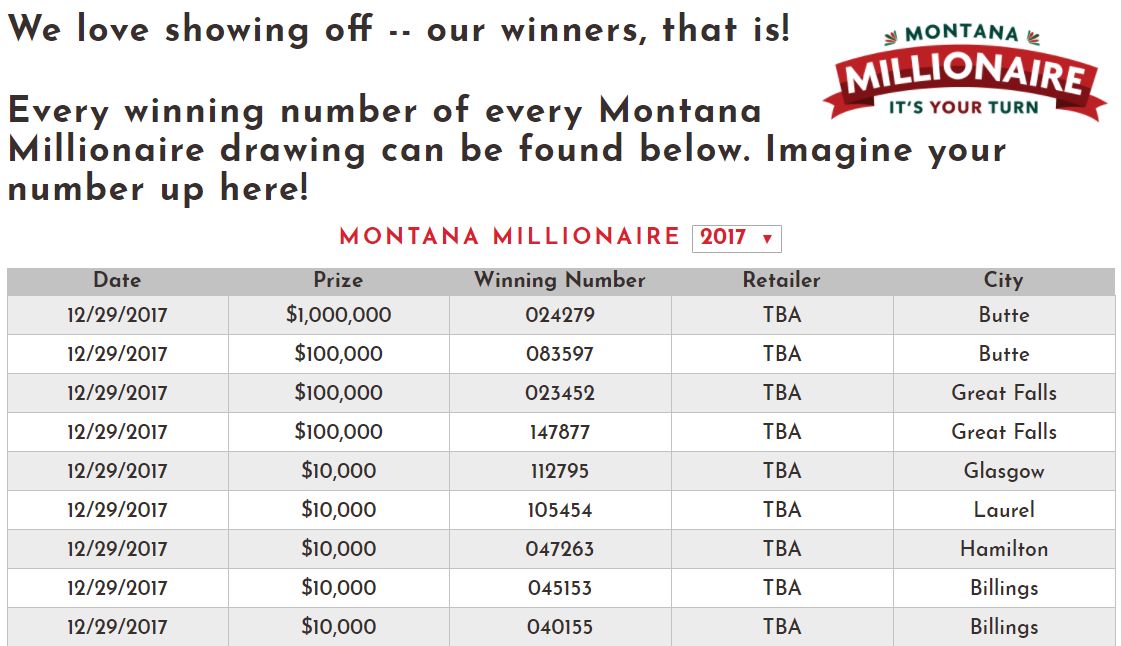 ---
Here are all of the $500 winners announced on Friday:
AMT TKT # LOCATION TOWN
$500 147971 Noon's #571 Great Falls
$500 146292 Holiday #87 Billings
$500 145683 Town Pump Lolo #2 #8912 Lolo
$500 144572 Frank's Quick Stop LLC Miles City
$500 143640 Holiday #283 Missoula
$500 140577 Town Pump of Laurel #330 Laurel
$500 140371 Town Pump of Cut Bank #1 #820 Cut Bank
$500 136210 Market Basket Billings
$500 136203 Thriftway Super Stop #3 Anaconda
$500 134088 Town Pump of Missoula #9 Missoula
$500 133089 Big Flat Grocery Turner
$500 124754 Town Pump of Missoula #1 #704 Missoula
$500 124240 Albertsons #0015 Wolf Point
$500 119652 Cenex Zip Trip #52 Billings
$500 118999 Bob's Valley Market Helena
$500 118807 Every Day IGA Great Falls
$500 118602 Town Pump Dillon #2 #360 Dillon
$500 118182 Every Day IGA Great Falls
$500 116417 Don's Xpress Center Billings
$500 114655 Noon's #574 Great Falls
$500 107911 Town Pump of Missoula #1 #704 Missoula
$500 107556 Albertsons #0009 Belgrade
$500 107288 Town Pump of Billings #11 Billings
$500 106652 Thriftway Super Stop #4 Butte
$500 105980 Agland Co-op Wolf Point
$500 104757 Rustic Hut Peters Enterprises Florence
$500 103515 I-90 Auto Truck Plaza Deer Lodge
$500 103057 The Corner Store Whitehall
$500 102238 Town Pump Butte #5 #5401 Butte
$500 100481 Casey's Corner Store #11 Billings
$500 099756 The Cigarette Store #305 Great Falls
$500 098514 Town Pump of Helena #6 #8917 Helena
$500 097922 Town Pump of Great Falls #1 Great Falls
$500 097544 Town Pump of Butte #1 Butte
$500 097203 Town Pump Livingston #3 #610 Livingston
$500 096855 Super 1 Foods-Kalispell Kalispell
$500 096798 Holiday #59 Great Falls
$500 093872 Holiday #273 Great Falls
$500 093282 Albertsons #4008 Helena
$500 092134 Town Pump of Butte #8 #1300 Butte
$500 090899 Town Pump of Libby #2 #4201 Libby
$500 090163 Town Pump Lewistown #3000 Lewistown
$500 083729 Albertsons #1010 Missoula
$500 081841 Town Pump Butte #4 #914 Butte
$500 080160 Town Pump of Havre #2700 Havre
$500 078759 Eastside Country Store & Deli Stevensville
$500 078494 Town Pump Butte #4 #914 Butte
$500 070101 Town Pump Great Falls #5 #1007 Great Falls
$500 069591 Albertsons #0630 Billings
$500 067899 Town Pump Bozeman #2 #800 Bozeman
$500 065330 Three Bears #70 Butte
$500 061287 Town Pump of Billings #4 #117 Billings
$500 057986 Town Pump of Laurel #330 Laurel
$500 047488 Super 1 Foods-Kalispell Kalispell
$500 045258 Bigfork Stage Stop Bigfork
$500 043160 Mikes of Columbia Falls Columbia Falls
$500 040140 Town and Country Supply Association Billings
$500 039016 Valley Foods Bridger
$500 035400 Cory's Valley Market Seeley Lake
$500 033596 Reynolds Market Baker
$500 032607 Casey's Corner Store #8 Billings
$500 032461 The Office Lounge & Liquor Store Livingston
$500 031861 Town Pump of Missoula #1 #704 Missoula
$500 030540 Rosauers #127 Missoula
$500 029642 Town Pump of Billings #8 #7115 Billings
$500 027968 Holiday #10 Great Falls
$500 026755 Cenex Zip Trip #75 Miles City
$500 023489 Super 1 Foods - Helena Helena
$500 020934 Town Pump Lewistown #3000 Lewistown
$500 018224 Glacier Gateway Exxon Vaughn
$500 011931 Kernaghan's Pik & Pump Great Falls
$500 011420 Montana City Store Montana City
$500 011103 3 North Bar & Grill Acton
$500 010619 "Worden's Market, Inc." Missoula
$500 007322 Holiday #108 Billings
$500 004113 Super 1 Foods-Kalispell City Center Kalispell
$500 003403 Locker Room Bar & Grill Anaconda