It's been 10 years since Michael Woods' life began anew.
That's when the now-married, father of two made what could have been a fatal decision.
As a teenager, Mike was living a double life.
"I just kind of panicked that my life was exposed, of these two lives, all these lies," he explained. "I had to come up with an explanation of it. I was really too proud. I didn't want to admit to my family I was kind of lying to them. And that I felt like I was supposed to be the responsible one."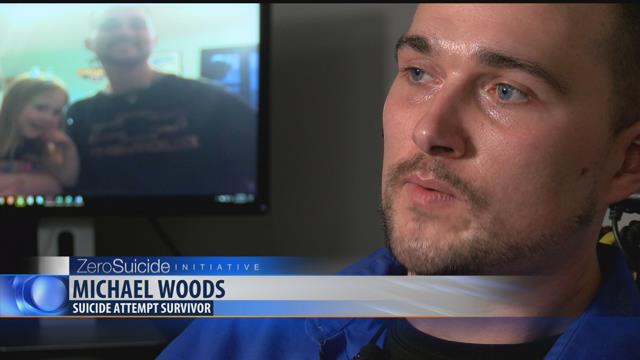 The now 27-year-old describes his 16-year-old self; a dichotomy of who he was with different people.
"Coming to school either stoned, or drunk, or both and it kind of created a barrier between my family and I, which it always seems to snowball effect, where I was living these two lives, where with my family, I was this good boy, got good grades," he said. "Then, the bad boy for my friends where I was the comedian, drunk, and the stoner and all that, and it seemed to get to get progressively worse for me because I had this life of lies, where I was trying to always cover up my tracks and live these two lives so it lead to family problems, where I was having constant problems with my family."
The burdensome effort to keep up both lives, both versions of himself, caused problems in his relationships, which led to him being bullied and beat up, and eventually Mike lost his job.
"I deeply hated myself for who I'd become and felt like I was out of control, and there was no turning back way, and there was no way to get back the potential I had," he said.
Mike describes the loss of his job as the tipping point in his thinking.
"I always say, 'every suicide,' it's never one thing, it's usually a bunch of things with a tipping point," he said. "For me, my tipping point really was losing my job."
He drove to one of his favorite fishing spots.
"Parked there, smoking cigarette after cigarette trying to calm down and I realized how much I hated myself. I had thought of suicide off and on the past few years."
Mike attempted suicide.
"I had a split second of consciousness afterwards," Mike describes.
Then, he blacked out. The next thing he remembered was waking up in the hospital as doctors brought him out of an induced coma.
"Realized I was going to survive, not really knowing what capabilities I would have or what mental capacities I'd have," Mike said. "They were finally able to bring me out of the induced coma. I remember my grandma was standing there. They were trying to figure out what I knew. And I was like, 'Hey grandma.' And they were like, 'Oh you know who that is?' And I said, 'Of course I do, that's my grandma.'"
Medical staff determined what path the bullet took and how it affected his brain.
"It hit only parts of my brain that affects motor function," he said.
Mike describes before and after his suicide attempt "like night and day."
His relationships, behavior, and attitude changed. He considers his survival a miracle.
"I've realized how lucky I am. It's really been a gift that I've been given and I need to pass it on," he said. "And to help people realize, what I now see, is that life is incredibly beautiful, and you can't take anything for granted."
He shares his renewed attitude and outlook with people of all ages across the state, given presentations, and hope. A plea for others who may be experiencing what he did to reach out, and get help.
Mike has also started a Facebook page where he shares suicide prevention resources and stories of hope. It's called "Out of the Woods."
"My biggest pride of the situation is that I refuse to receive pity or refuse to remain depressed about a situation, and see no hope in it. There's always hope in everything."
---
If you are in crisis and want help, call the Montana Suicide Prevention Lifeline anytime at 1-800-273-TALK or text "MT" to 741741

CLICK HERE FOR MORE SUICIDE PREVENTION RESOURCES