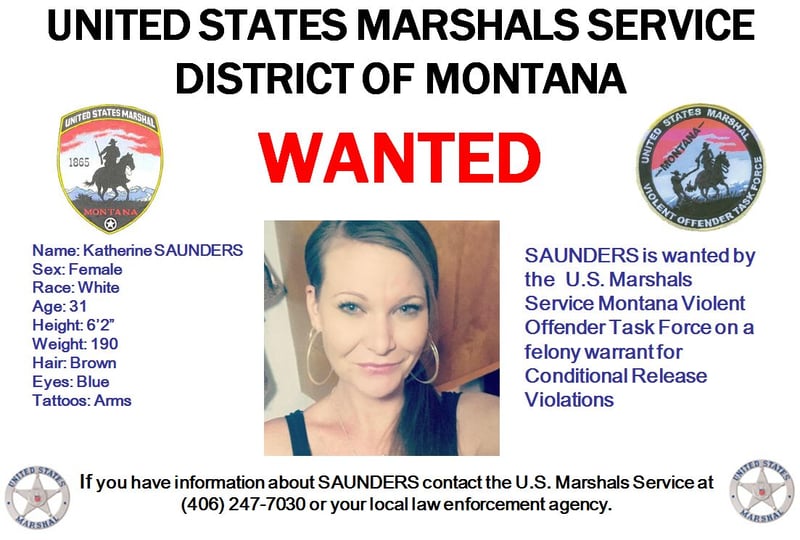 The United States Marshals Service District of Montana has issued a BOLO Alert (Be On the Look-Out) for Katherine Saunders.
Saunders is wanted by the Montana Violent Offender Task Force for conditional release violations.
Anyone with information about Saunders is asked to call the U.S. Marshals Service at 406-247-7030 or their local law enforcement agency.
---
(JULY 10, 2017) A husband and wife are facing a list of felonies after they were arrested Sunday after trying to sell a stolen Porsche and Ford F350. Jacob A. Saunders, 38, and his wife, Katherine S. Saunders, 30, were seen in Gallatin County Justice Court Monday morning in separate cases. Both are listed as transients in court documents.
According to charging documents, Jacob reportedly was involved a burglary in a home south of Bozeman, where designer jewelry, handbags, cameras, computers, watches, multiple firearms and a 2007 Lexus IS250 were stolen on April 6, 2017.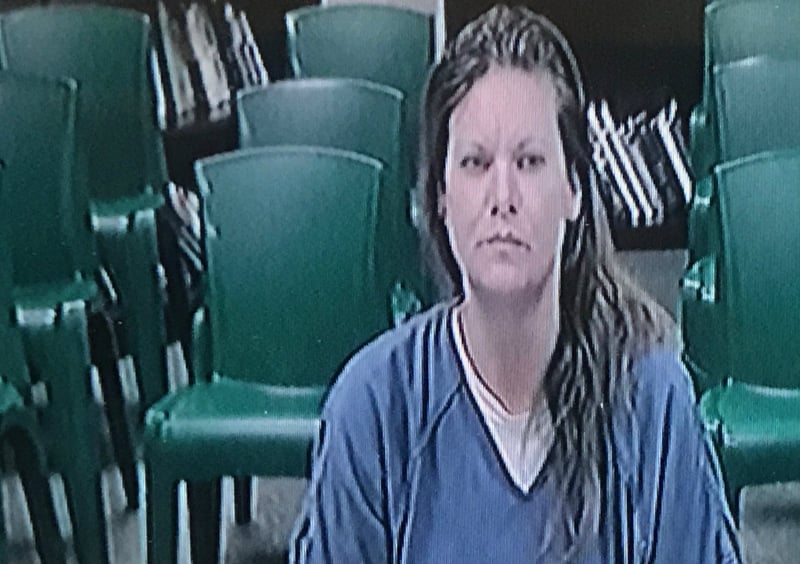 On April 11, a report of a vehicle on fire at the entrance to Hyalite Canyon Road was investigated. A witness saw three people exit a vehicle and set fire to what was later confirmed to be the stolen Lexus.
On June 14, a confidential source told a detective with the Bozeman Police Department that he had information regarding a large amount of stolen firearms. The source told the detective he had overheard a call where "Jake" later identified as Jacob Saunders, asked Dustin Schroder for help, saying he was in a stolen vehicle, filled with guns and jewelry, traveling to Hyalite Canyon.
Schroder is currently an inmate at the Gallatin County Detention Center, on charges of possession of dangerous drugs.
According to the source, Schroder transported the guns and jewelry to Spokane, Wash. and traded the items for methamphetamine and/or heroin. Court documents state that Schroder rented a U-Haul van and tow dolly on April 11, 2017.
On July 6, the victim of the burglary told a detective that they had contacted "Jake" on March 14 at a waterproofing business to fix a leak in the mechanical room of their home. On March 22 or 23, "Jake" arrived at the residence to look at the leak, made suggestions and then left after 30-45 minutes. When shown pictures of Jacob Saunders, the victim confirmed Saunders was at the residence.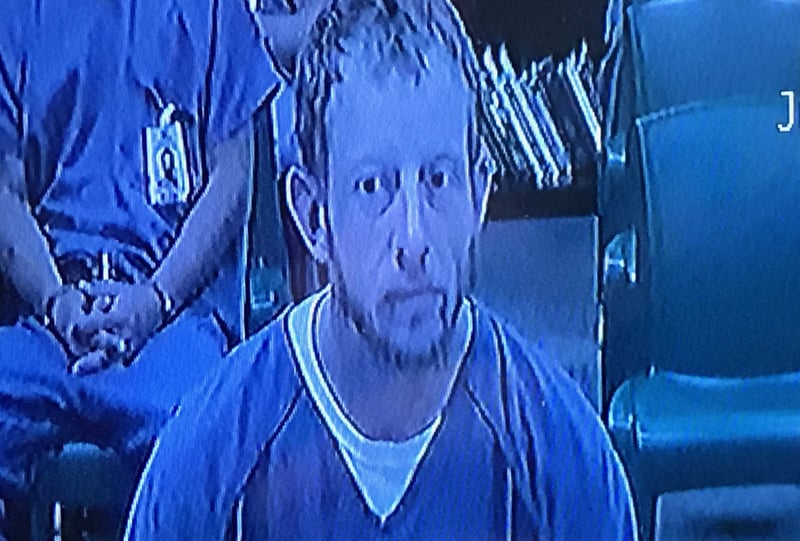 During a search warrant, a spiral notebook was located in Schroder's bedroom. The notebook contained the inventory of firearms taken from the victim's residence. Schroder reportedly told Saunders to get rid of the items. Schroder confirmed to investigators that he had left with Saunders in a U-Haul.
On Sunday, July 9, an employee of a local tow company called law enforcement to report that Saunders called about selling two recently stolen vehicles for quick money to get out of town. Saunders said the vehicles were a 2014 Ford F350 and a 2004 Porsche Cayenne, stolen from a local dealership. The owner of the dealership was unaware that the vehicles had been stolen because they were closed on Sunday.
Saunders and his wife, Katherine Saunders, were seen walking in the parking lot of Bozeman's Wal-Mart and both stolen vehicles were parked. According to law enforcement, the pair was observed attempting to communicate via hand-held communication devices. The pair walked in unison to the Porsche and were then placed under arrest.
During Monday's court appearance, the state notified the court that an additional two vehicles and a trailer are missing in the case.
During her appearance on charges of two counts of felony theft, it was also announced that Katherine Saunders will face additional drug charges. Her bond was set a $30,000 and her next hearing will be Aug. 4.
Jacob Saunders was charged with burglary, arson, and two counts of theft, all felonies. He has a bond of $200,000 and his next hearing is set for Aug. 4.