The five-month old baby was left alone in the woods for about nine hours
Crowley said he left the baby there because he was tired of carrying him
Sheriff's deputy found the baby face down in debris and sticks
The baby is now recovering at a Missoula hospital and expected to be OK
Crowley has a criminal record in Oregon
(MISSOULA) Francis Crowley, who has been charged with leaving a baby alone in the woods near Lolo Hot Springs over the weekend, is no a stranger to law enforcement.
Crowley - currently jailed a $200,000 bond after appearing in court on Tuesday - has a record of arrests in Oregon.
He faces charges of assault on a minor and criminal endangerment charges after he reportedly left the baby in the woods. Crowley has admitted to having taken both methamphetamine and bath salts, according to court documents. Deputies began searching for the baby after Crowley was not able to lead officials to where he believed the baby to be. Search efforts led law enforcement to a game trail where they discovered Crowley's vehicle crashed into a tree. The child was not in the vehicle so officers began following a trail of personal items until they heard a faint noise and uncovered the baby under a pile of sticks face down. The baby was cold to the touch and was wearing only a onesie that was soiled.
Crowley later admitted to leaving the baby after he grew tired of carrying him. He also told authorities that he can't remember when he left the baby on the ground, but said that it was still hot out.
Searchers found the infant face-down under a pile of sticks and debris, clothed only in a wet and soiled onesie; Deputy Jessop said he was overcome with joy: "I was so overcome with emotion that my cop instincts and my cop training ... went away. I just wrapped that baby up just like a father would any child in need."
The baby was taken to a hospital in Missoula and treated for dehydration, lack of food, and scratches and bruises he sustained after spending approximately nine hours alone in the wilderness.
CBS affiliate KOIN in Portland says that Crowley was arrested in Wasco County in 2013 and 2017. He was also charged with a misdemeanor of fleeing or attempting to elude a police officer in March 2018 in Multnomah County.
Crowley's arrest record dates back to 2004 and includes several misdemeanor and felony charges in Oregon.
According to Dylan Arthur, executive director for the parole board in Oregon, Crowley was under post-prison supervision for several counts of burglary and one count of criminal mischief. Crowley will be subjected to drug and alcohol testing while remaining in Montana and is to have no contact with the child or the child's mother if he posts bail in the Missoula County case.
His next court appearance is scheduled for Wednesday, July 25th.
The baby is said to be in good condition at a Missoula hospital and is now in the custody of the state Department of Child & Family Services.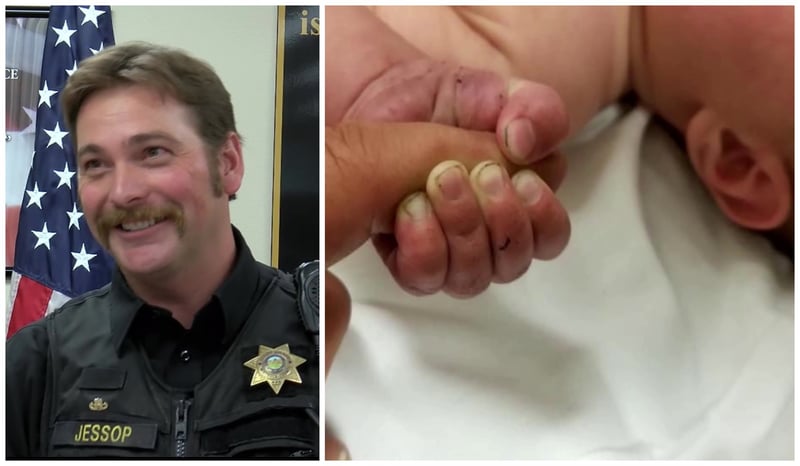 ---
Court documents indicate that temperatures during the time the infant was out in the woods ranged from a high of 91 to a low of 51.
The child faced severe dehydration, hunger, and predators. But perhaps the biggest threat to this infant was hypothermia, which can start to affect adults even when overnight temperatures are in the low 60s.
This baby was already wet, so the cold became more of a factor, which placed him in grave danger that night.
"The big thing here is once your core temperature goes down to a certain level, there's no way of restoring it on your own," said Mike Jarnevic, a survival professional. "You have to have an external substance to warm you, be it a fire or hot water put into a hot water bottle, or something of that nature. Just wrapping up in a sleeping bag won't work either. They need something to generate heat."
Most infants need more warmth than the average adult human. It's more critical for a baby in that particular situation. I'm actually very surprised the baby didn't expire."
He does not believe the sticks that were covering the child gave him much protection from the cold.