(MISSOULA) Ivory Brien, an accomplice in the convenience store shooting lasta March that injured two people, has reached a plea agreement with Missoula County prosecutors.
Brien, 19 years old, was originally charged with two charges of accountability for attempted deliberate homicide in connection with the shooting at South Avenue Market on March 6th.
Brien is accused of pepper-spraying customers at South Avenue Market while Chase Munson, 18, is being charged with shooting two victims.
A customer was shot in the back of the head and an employee was shot in the shoulder. Both victims survived their injuries.
Missoula County Deputy County Attorney Mac Bloom confirmed with MTN News that Brien pleaded guilty to amended charges of felony conspiracy to commit robbery, as well as two misdemeanor assault charges last Thursday, in Cascade County District Court.
Blooms says a sentencing date has not yet been determined.
Prosecutors are awaiting an order from the court on that point. The sentencing may take place in Missoula or Great Falls. It will be up to the Judge Gregory Pinski of Great Falls to decide on the location.
Munson has pleaded not guilty to two counts of attempted deliberate homicide.
His jury trial is set for October 3rd.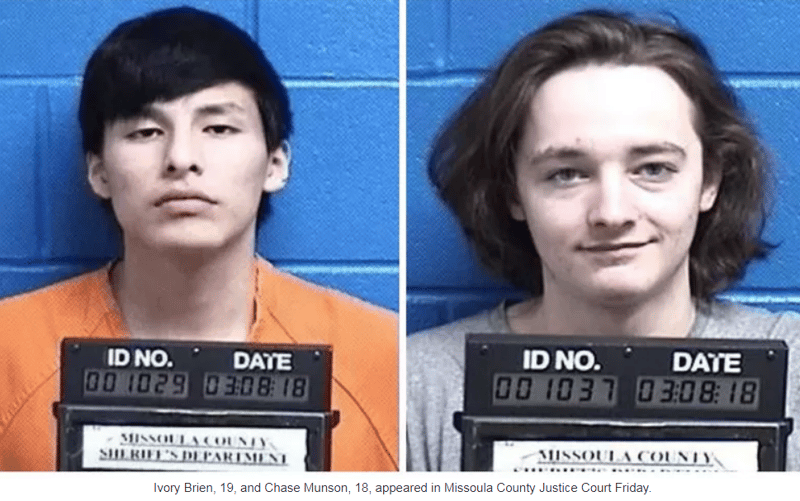 div[data-mml-type="relatedcategory"]{border: thin solid #e7e7e7;} .categories-right-icon{display: none;} .stories-area > hr{margin: 0px;} .stories-area > iframe {border: white;} div[data-mml-type]{ overflow: hidden; } div[data-mml-status="draft"] {display: none !important;} div.fb-post span, div.fb-post span iframe{max-width: 100%;} div[data-mml-type="twitter"].left, div[data-mml-type="instagram"].left, div[data-mml-type="facebook"].left{ float: left; position: relative; overflow:hidden; max-width:100%;}div[data-mml-type="twitter"].right,div[data-mml-type="instagram"].right,div[data-mml-type="facebook"].right{ float: right; position: relative; overflow:hidden; max-width:100%;}div[data-mml-type="twitter"].center,div[data-mml-type="instagram"].center,div[data-mml-type="facebook"].center{ width: 100% !important; overflow:hidden; text-align: center;}div[data-mml-type="twitter"].center iframe,div[data-mml-type="twitter"].center twitterwidget,div[data-mml-type="instagram"].center iframe,div[data-mml-type="facebook"].center iframe{ margin: auto !important;}div[data-mml-type="facebook"].center > span{ margin: auto !important; display: block !important;} .mml-display-none{display: none !important;} div[data-mml-type="gmaps"], div[data-mml-type="youtube"] {position:relative; width:100%; padding-bottom:56.25%;} div[data-mml-type="gmaps"] iframe, div[data-mml-type="youtube"] iframe {position:absolute; left:0; top:0;} div[data-embed-type="clip"],div[data-mml-type="clip"]{position: relative;padding-bottom: 56.25%;width: 100%;box-sizing: border-box;} div[data-embed-type="clip"] iframe { position: absolute;}div[data-embed-type="social"] {position: relative;padding-bottom: 56.25%;width: 100%;box-sizing: border-box;} div[data-embed-type="social"] iframe,div[data-mml-type="clip"] iframe { position: absolute;}.frankly-img{max-width:100%;}.mce-item-table{word-break: break-all;}