HELENA – Agriculture is Montana's leading industry and in Helena, two guys are using their ag roots to distill a product from soil and sunshine.
Montana is a beer drinking state with new breweries popping up in every corner. But two guys, Steffen Rasile and Tyrrell Hibbard, are trying to change the game.
"Raising the awareness of the cocktail culture in this town," Rasile said.
Gulch Distillers is a nod to the history of Helena's gold mining days and is nestled in the heart of town. Rasile and Hibbard have been friends for many years and have always had a spirit for spirits.
"Creating unique spirits that can work well in cocktails has always been fun for me," said Rasile. Hibbard added, "We're concentrating the character and the properties of those products into something beautiful and enjoyable."
After years of discussions, they decided to take their passion to the next level and open their business. Three years ago the two guys bought the business that was then known as Triple Divide Spirits. The next step for them was to buy a still that took more than a year to arrive.
"So it gave us about 18 months to get our act together and figure out what we were going to do with it," Rasile said with a laugh.
Gulch has many of the usual options, like vodka, rum, gin and even a new apple brandy.
"And that's all apples grown in the Bitterroot," added Rasile.
There's even a spirit you may have never even tried – Fernet, which is an Italian style liquor.
Rasile explained more about Fernet, which he said is, "Very commonly drank after dinner to settle your stomach down."
There are 18 different botanicals in the fernet recipe and the gulch guys are one of only ten other distillers in the country to create this spirit. With so many different ingredients, it's hard to source everything from Montana.
But, "We've got fields of mint growing in our backyards," Rasile said with pride.
Scanning through the shelves, there is one thing noticeably absent: Whiskey.
"We've been making whiskey since day one and we haven't released any yet because we want to do it right," Rasile said.
That's right. Behind the tasting room, whiskey is aging in barrels just waiting to be served. But anyone looking for Gulch whiskey will have to keep waiting.
"It's tasting delicious, but we would like to give it a little more time," said Rasile.
The quality of the ingredients is important to the Gulch brand just as is educating the public about cocktail culture.
"It's not difficult to have a good bar in your house. It doesn't have to be expensive and you can make really nice things and we like to show people how to do that," Hibbard said.
There are currently 35 different drinks on the menu and those offerings change seasonally. When Rasile and Hibbard aren't serving, teaching cocktail recipes or running the still in the back, they are working their full-time jobs.
Rasile is a web developer and Hibbard is rancher just outside of Helena.
"I mean it all starts from a raw, agricultural product," Hibbard explained, noting the similarities between distilling and ranching. "It's a product of soil and sunshine."
"This truly is a passion project for both of us and the only way that it really works is through that partnership," added Hibbard.
Both guys were born and raised in the Treasure State with an appreciation for everything Montana Made.
"We love Montana and we wanted to highlight the Montana grown products and make alcohol out of it," Rasile said.
If juggling full-time jobs and distilling award winning liquor wasn't enough to keep them busy, Rasile also competes in beard competitions.
"I'm currently the world silver medalist in the freestyle sideburn category," he said with a chuckle.
Currently, he's 'training for the World Championships, adding, "It's been a really big passion of mine. It's been a really great way to travel around the country and see a lot of my bearded friends and win some awards."
The Triple Divide Vodka is the most popular spirit the Gulch distills at the moment. You can find at least one product of theirs in almost any liquor store across Montana, in an online retailer for Illinois residents and a few bars in Seattle.
Click here to visit the Gulch Distillers website.
Reported by Mikenzie Frost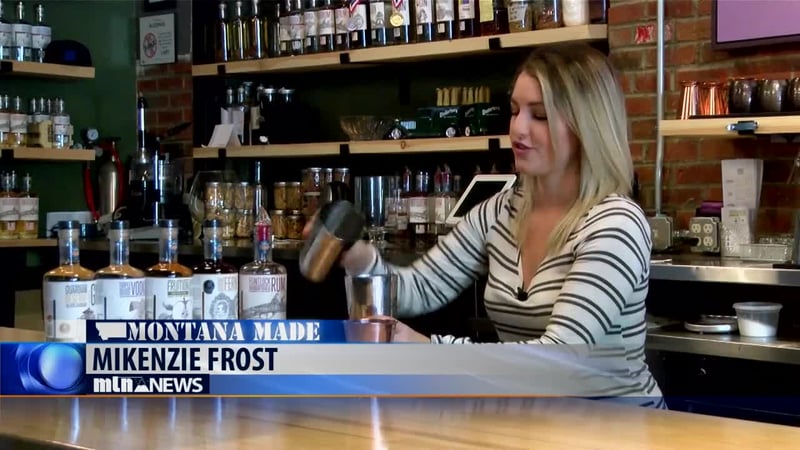 div[data-mml-type="relatedcategory"]{border: thin solid #e7e7e7;} .categories-right-icon{display: none;} .stories-area > hr{margin: 0px;} .stories-area > iframe {border: white;} div[data-mml-type]{ overflow: hidden; } div[data-mml-status="draft"] {display: none !important;} div.fb-post span, div.fb-post span iframe{max-width: 100%;} div[data-mml-type="twitter"].left, div[data-mml-type="instagram"].left, div[data-mml-type="facebook"].left{ float: left; position: relative; overflow:hidden; max-width:100%;}div[data-mml-type="twitter"].right,div[data-mml-type="instagram"].right,div[data-mml-type="facebook"].right{ float: right; position: relative; overflow:hidden; max-width:100%;}div[data-mml-type="twitter"].center,div[data-mml-type="instagram"].center,div[data-mml-type="facebook"].center{ width: 100% !important; overflow:hidden; text-align: center;}div[data-mml-type="twitter"].center iframe,div[data-mml-type="twitter"].center twitterwidget,div[data-mml-type="instagram"].center iframe,div[data-mml-type="facebook"].center iframe{ margin: auto !important;}div[data-mml-type="facebook"].center > span{ margin: auto !important; display: block !important;} .mml-display-none{display: none !important;} div[data-mml-type="gmaps"], div[data-mml-type="youtube"] {position:relative; width:100%; padding-bottom:56.25%;} div[data-mml-type="gmaps"] iframe, div[data-mml-type="youtube"] iframe {position:absolute; left:0; top:0;} div[data-embed-type="clip"],div[data-mml-type="clip"]{position: relative;padding-bottom: 56.25%;width: 100%;box-sizing: border-box;} div[data-embed-type="clip"] iframe { position: absolute;}div[data-embed-type="social"] {position: relative;padding-bottom: 56.25%;width: 100%;box-sizing: border-box;} div[data-embed-type="social"] iframe,div[data-mml-type="clip"] iframe { position: absolute;}.frankly-img{max-width:100%;}.mce-item-table{word-break: break-all;}