William Patrick Rose III has been charged with attempted deliberate homicide in connection with the shooting of a man in Great Falls.
Rose was initially charged with assault with a weapon for the shooting incident that happened 500 block of 22nd Avenue NE on April 8th; the new charge was filed on Wednesday, April 18.
Court documents supporting the new charge state that in the minutes leading up the shooting, Rose had left the victim's girlfriend a number of threatening voicemail messages.
The court documents state: "The defendant can be heard stating that he had two guns pointing at the victim. In that same message, he states that no one knows they are hanging out and 'I can just put you down.' He called 911 three minutes later and said that he had shot the victim."
Court documents note that Rose "appeared to be under the influence of narcotics" when officers arrived.
---
(APRIL 9, 2018) William Patrick Rose III, 42 years old, has been charged with assault with a weapon (felony) in Great Falls after he allegedly told police that he had shot someone on Sunday.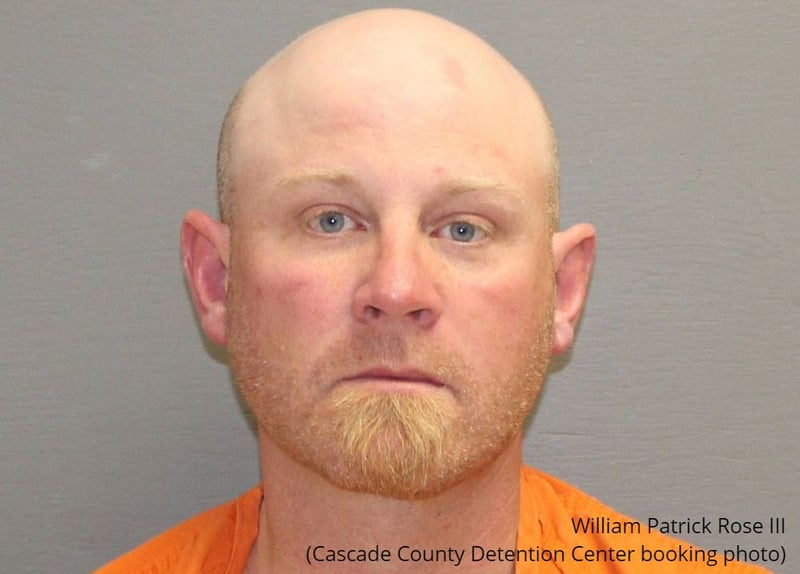 Court documents state that on Sunday night, Rose contacted the Great Falls Police Department and reported that he had shot someone.
Officers responded to the residence on the 500 block of 22nd Avenue NE, where they found a man with a gunshot wound to his chest.
The man who was shot was taken to Benefis Health System for treatment; there is no word at this time on his current condition.
According to court documents, Rose claimed that the shooting was in self-defense, and told police that the gun he used was inside his vehicle parked in front of the residence, but refused to provide any other information.
Prosecutors have requested that bond for Rose be set at $100,000 due to the "excessively violent nature of this crime."
We will update you as we get more information.
div[data-mml-type="relatedcategory"]{border: thin solid #e7e7e7;} .categories-right-icon{display: none;} .stories-area > hr{margin: 0px;} .stories-area > iframe {border: white;} div[data-mml-type]{ overflow: hidden; } div[data-mml-status="draft"] {display: none !important;} div.fb-post span, div.fb-post span iframe{max-width: 100%;} div[data-mml-type="twitter"].left, div[data-mml-type="instagram"].left, div[data-mml-type="facebook"].left{ float: left; position: relative; overflow:hidden; max-width:100%;}div[data-mml-type="twitter"].right,div[data-mml-type="instagram"].right,div[data-mml-type="facebook"].right{ float: right; position: relative; overflow:hidden; max-width:100%;}div[data-mml-type="twitter"].center,div[data-mml-type="instagram"].center,div[data-mml-type="facebook"].center{ width: 100% !important; overflow:hidden; text-align: center;}div[data-mml-type="twitter"].center iframe,div[data-mml-type="twitter"].center twitterwidget,div[data-mml-type="instagram"].center iframe,div[data-mml-type="facebook"].center iframe{ margin: auto !important;}div[data-mml-type="facebook"].center > span{ margin: auto !important; display: block !important;} .mml-display-none{display: none !important;} div[data-mml-type="gmaps"], div[data-mml-type="youtube"] {position:relative; width:100%; padding-bottom:56.25%;} div[data-mml-type="gmaps"] iframe, div[data-mml-type="youtube"] iframe {position:absolute; left:0; top:0;} div[data-embed-type="clip"],div[data-mml-type="clip"]{position: relative;padding-bottom: 56.25%;width: 100%;box-sizing: border-box;} div[data-embed-type="clip"] iframe { position: absolute;}}div[data-embed-type="social"], {position: relative;padding-bottom: 56.25%;width: 100%;box-sizing: border-box;} div[data-embed-type="social"] iframe,div[data-mml-type="clip"] iframe { position: absolute;}}.frankly-img{max-width:100%;}