Great Falls Park & Recreation will host a town hall meeting Thursday night to provide more information about the proposed Great Falls Park District 1.
The Park District proposal will be on the May 8th election ballot.
The Master Plan, which was adopted by the City Commission in November 2016, identified $12.6 million in deferred maintenance projects.
But, because the city's general fund is not able to fund parks and recreation or any major repairs, the Plan recommended a city-wide park district.
The district would supplement current funding while creating sustainable funding sources for parks and recreation in the future.
Last July, Park and Recreation Director Patty Rearden says if the District is approved, it will cost a property owner around $43 annually for every $100,000 home, which works out to $3.58 per month.
Erin Merchant with Preserve Our Parks says that if approved, the Park District will not only benefit current residents, but also people looking to move into the area as well.
"Economically, having parks is a game changer when we're recruiting people into our community. We are always trying to get young professionals-business owners, doctors, nurses- to move here and so are other cities in Montana. And people want to move to Montana, but when they can come to Great Falls and see the connectivity (in the parks) that we have and all those parks, that can make a huge difference when they're making their decisions."
While supporters say the Park District would address critical maintenance needs at parks in the city, opponents say they've seen mismanagement of the existing 57 parks.
They say the backlog of maintenance is a testament to there already being too many parks to be managed.
Those against the district believe the city should sell some existing park land; they say the funds from that sale could be used for maintenance needs along with privatizing the River's Edge Trail and golf courses.
Preserve our Parks will be holding a rally in support of the Park district at 4:30 p.m. Thursday afternoon at the steps of the Civic Center, located at 2 Park Drive S.
The town hall meeting will begin at 5:30 p.m. in the Gibson Room of the Civic Center.
For more information about Great Falls Park District Number 1, visit the City of Great Falls' website.
---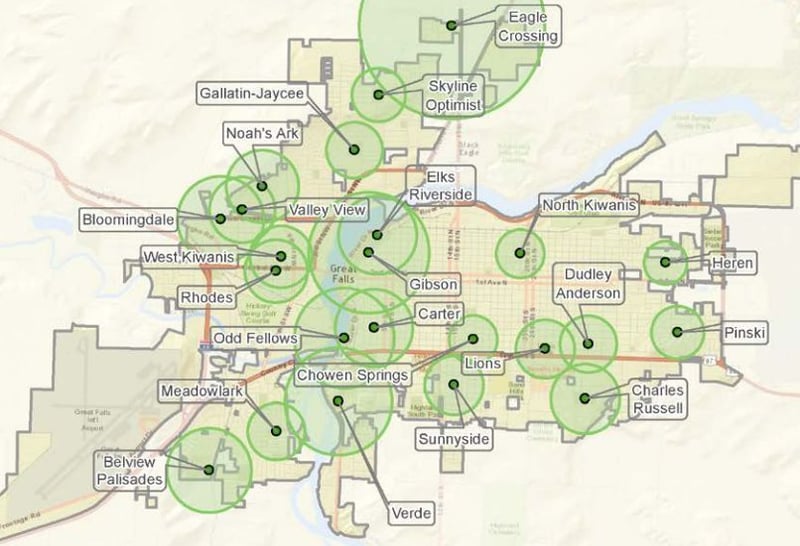 div[data-mml-type="relatedcategory"]{border: thin solid #e7e7e7;} .categories-right-icon{display: none;} .stories-area > hr{margin: 0px;} .stories-area > iframe {border: white;} div[data-mml-type]{ overflow: hidden; } div[data-mml-status="draft"] {display: none !important;} div.fb-post span, div.fb-post span iframe{max-width: 100%;} div[data-mml-type="twitter"].left, div[data-mml-type="instagram"].left, div[data-mml-type="facebook"].left{ float: left; position: relative; overflow:hidden; max-width:100%;}div[data-mml-type="twitter"].right,div[data-mml-type="instagram"].right,div[data-mml-type="facebook"].right{ float: right; position: relative; overflow:hidden; max-width:100%;}div[data-mml-type="twitter"].center,div[data-mml-type="instagram"].center,div[data-mml-type="facebook"].center{ width: 100% !important; overflow:hidden; text-align: center;}div[data-mml-type="twitter"].center iframe,div[data-mml-type="twitter"].center twitterwidget,div[data-mml-type="instagram"].center iframe,div[data-mml-type="facebook"].center iframe{ margin: auto !important;}div[data-mml-type="facebook"].center > span{ margin: auto !important; display: block !important;} .mml-display-none{display: none !important;} div[data-mml-type="gmaps"], div[data-mml-type="youtube"] {position:relative; width:100%; padding-bottom:56.25%;} div[data-mml-type="gmaps"] iframe, div[data-mml-type="youtube"] iframe {position:absolute; left:0; top:0;} div[data-embed-type="clip"],div[data-mml-type="clip"]{position: relative;padding-bottom: 56.25%;width: 100%;box-sizing: border-box;} div[data-embed-type="clip"] iframe { position: absolute;}}div[data-embed-type="social"], {position: relative;padding-bottom: 56.25%;width: 100%;box-sizing: border-box;} div[data-embed-type="social"] iframe,div[data-mml-type="clip"] iframe { position: absolute;}}.frankly-img{max-width:100%;}