(BOZEMAN) Three people face felony charges after police allegedly found them in possession of methamphetamine and other drugs at a Bozeman-area motel on Sunday.
Antonio Creel, Cheyanne Young, and Kaylenne Dues-Carey all appeared in Gallatin County Justice Court on Monday, accused of felony possession of dangerous drugs with intent to distribute.
According to court documents, a Bozeman police officer on patrol arrested Creel, 20, after spotting him in the Bozeman Motel 6 parking lot with Young. The officer stated that Creel had two outstanding felony warrants, threw something into the trunk of a blue sedan when he saw the officer, and was then arrested at gunpoint. Officers reportedly found a hypodermic needle and digital scale in Creel's pockets after his arrest.
The officer states that Young, 22, claimed the sedan was hers and was cooperative but denied consent to search the trunk of the vehicle. A K9 search of the car's exterior indicated the presence of drugs, and the car was impounded.
The reporting officer proceeded with backup to the motel room Creel and Young were reportedly staying in and spoke with Dues-Carey, who identified herself as Amber Cook. Officers were able to confirm her identity with registration information from the motel, and she was arrested for obstructing an officer.
At the Gallatin County Detention Center, officers allegedly found meth, fentanyl, syringes, and plastic baggies in Dues-Carey's purse and a cardboard box she claimed was hers.
Court documents state that Young was also arrested and taken to the detention center after officers found her in possession of a narcotic prescribed to another individual. A further search at the detention center allegedly found two baggies of meth hidden on her person.
Judge Bryan Adams set Creel's bail at $150,000, stating that he poses an extreme risk to the safety of the community. Young and Dues-Carey each had their bail set at $3,000.
All three are next scheduled to appear in District Court on May 25.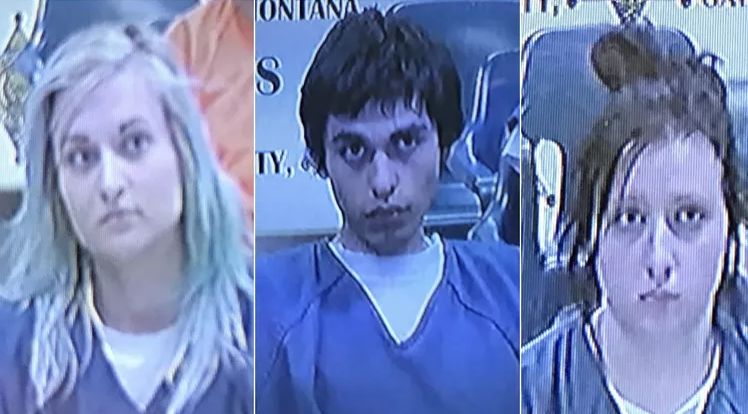 div[data-mml-type="relatedcategory"]{border: thin solid #e7e7e7;} .categories-right-icon{display: none;} .stories-area > hr{margin: 0px;} .stories-area > iframe {border: white;} div[data-mml-type]{ overflow: hidden; } div[data-mml-status="draft"] {display: none !important;} div.fb-post span, div.fb-post span iframe{max-width: 100%;} div[data-mml-type="twitter"].left, div[data-mml-type="instagram"].left, div[data-mml-type="facebook"].left{ float: left; position: relative; overflow:hidden; max-width:100%;}div[data-mml-type="twitter"].right,div[data-mml-type="instagram"].right,div[data-mml-type="facebook"].right{ float: right; position: relative; overflow:hidden; max-width:100%;}div[data-mml-type="twitter"].center,div[data-mml-type="instagram"].center,div[data-mml-type="facebook"].center{ width: 100% !important; overflow:hidden; text-align: center;}div[data-mml-type="twitter"].center iframe,div[data-mml-type="twitter"].center twitterwidget,div[data-mml-type="instagram"].center iframe,div[data-mml-type="facebook"].center iframe{ margin: auto !important;}div[data-mml-type="facebook"].center > span{ margin: auto !important; display: block !important;} .mml-display-none{display: none !important;} div[data-mml-type="gmaps"], div[data-mml-type="youtube"] {position:relative; width:100%; padding-bottom:56.25%;} div[data-mml-type="gmaps"] iframe, div[data-mml-type="youtube"] iframe {position:absolute; left:0; top:0;} div[data-embed-type="clip"],div[data-mml-type="clip"]{position: relative;padding-bottom: 56.25%;width: 100%;box-sizing: border-box;} div[data-embed-type="clip"] iframe { position: absolute;}}div[data-embed-type="social"], {position: relative;padding-bottom: 56.25%;width: 100%;box-sizing: border-box;} div[data-embed-type="social"] iframe,div[data-mml-type="clip"] iframe { position: absolute;}}.frankly-img{max-width:100%;}.mce-item-table{word-break: break-all;}