Jonathon Joseph Lee Shelton has been charged after he allegedly assaulted a man in Great Falls.
The incident happened at 2010 River Drive North on Wednesday just after 11 a.m.
A probable cause affidavit says that police officers were sent to the scene for a report of an assault; when they arrived, they contacted a man in a vehicle that had blood in and around it. The man told police that Shelton had hit him with a bat or a large stick.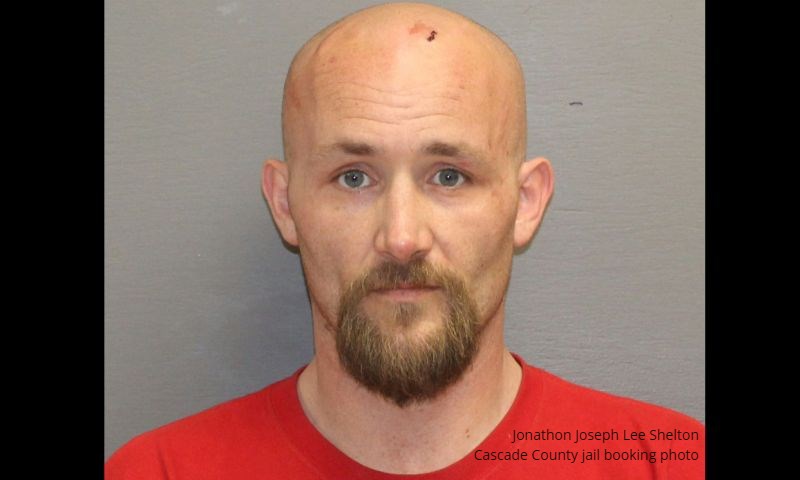 Officers then saw Shelton outside a trailer home arguing with a woman.
The alleged victim and the woman told police that Shelton and the woman – who are in a relationship – had been arguing earlier in the day, and that Shelton had left her at another location and went home. The man who was assaulted then gave the woman a ride home.
Once they arrived, according to court documents, Shelton and the man began arguing. The victim told police that Shelton then grabbed a "large wooden object" and began hitting him on the head with it, and then Shelton pulled out a knife.
The victim managed to get away from Shelton and then tried to go inside, but Shelton reportedly followed him and continued hitting him.
The man told police that the woman then grabbed a pistol, according to the affidavit, and pointed it at Shelton, at which point Shelton stopped hitting the man.
The woman and a neighbor corroborated what the victim told police.
Shelton reportedly admitted hitting the man, but said that he did so in self-defense, because the woman had pointed a gun at him.
The officer's report notes: "Due to the conflicting statements, it appeared Jonathon was the aggressor."
Shelton has been charged with assault with a weapon (felony); prosecutors requested that bond for Shelton be set at $20,000.
div[data-mml-type="relatedcategory"]{border: thin solid #e7e7e7;} .categories-right-icon{display: none;} .stories-area > hr{margin: 0px;} .stories-area > iframe {border: white;} div[data-mml-type]{ overflow: hidden; } div[data-mml-status="draft"] {display: none !important;} div.fb-post span, div.fb-post span iframe{max-width: 100%;} div[data-mml-type="twitter"].left, div[data-mml-type="instagram"].left, div[data-mml-type="facebook"].left{ float: left; position: relative; overflow:hidden; max-width:100%;}div[data-mml-type="twitter"].right,div[data-mml-type="instagram"].right,div[data-mml-type="facebook"].right{ float: right; position: relative; overflow:hidden; max-width:100%;}div[data-mml-type="twitter"].center,div[data-mml-type="instagram"].center,div[data-mml-type="facebook"].center{ width: 100% !important; overflow:hidden; text-align: center;}div[data-mml-type="twitter"].center iframe,div[data-mml-type="twitter"].center twitterwidget,div[data-mml-type="instagram"].center iframe,div[data-mml-type="facebook"].center iframe{ margin: auto !important;}div[data-mml-type="facebook"].center > span{ margin: auto !important; display: block !important;} .mml-display-none{display: none !important;} div[data-mml-type="gmaps"], div[data-mml-type="youtube"] {position:relative; width:100%; padding-bottom:56.25%;} div[data-mml-type="gmaps"] iframe, div[data-mml-type="youtube"] iframe {position:absolute; left:0; top:0;} div[data-embed-type="clip"],div[data-mml-type="clip"]{position: relative;padding-bottom: 56.25%;width: 100%;box-sizing: border-box;} div[data-embed-type="clip"] iframe { position: absolute;}}div[data-embed-type="social"], {position: relative;padding-bottom: 56.25%;width: 100%;box-sizing: border-box;} div[data-embed-type="social"] iframe,div[data-mml-type="clip"] iframe { position: absolute;}}.frankly-img{max-width:100%;}.mce-item-table{word-break: break-all;}