(GREAT FALLS) Sonja McCracken was given a three-year deferred sentence on a charge of assault with a weapon.
This was McCracken's first felony offense and prosecutors said they had a hard time keeping in contact with the victim of the case.
On January 1st, police responded to a bleeding man knocking on doors.
When the officers found the man, he identified McCracken as the person who stabbed him.
Judge John Parker told McCracken he does not want to see her in court again.
A partner/family member assault charge was dismissed per the plea agreement.
---
(JANUARY 2, 2018) Sonja Candace McCracken has been charged in Great Falls with felony assault with a weapon and misdemeanor partner/family member assault.
Court documents state that at 4:19 a.m. on Monday, January 1st, police officers were sent to the 900 block of 8th Avenue NW for reports of a bleeding man knocking on doors. When officers found the man, he reportedly said, "She's crazy, she stabbed me."
Officers noted that the man was bleeding from his hands and leg. When asked who stabbed him, he said Sonja McCracken.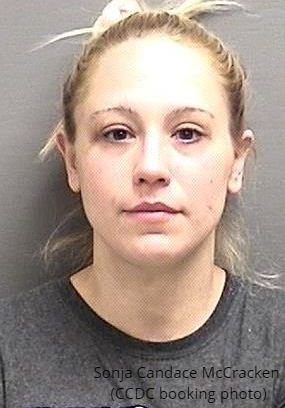 Officers found McCracken inside a nearby house and arrested her without incident.
The victim told police that he and McCracken had shared a pint of Black Velvet earlier that night, after which McCracken passed out.
Later, he was in the kitchen when McCracken entered and reportedly accused him of "hiding the booze," according to court documents.
McCracken picked up a kitchen knife and allegedly began slashing at the victim. He held up his hands to deflect the strikes, and sustained "deep lacerations" to his left hand. He retreated to the bedroom, and McCracken followed him, but he fell to the floor and she stabbed him in his right leg, according to court documents.
The victim then kicked the door shut and held it closed with his legs; McCracken then reportedly began stabbing the door, and the victim told police that he could see the knife blade piercing the door. When he heard McCracken walk away, he ran out of the house and asked a neighbor to call 911.
When interviewed by police, McCracken denied that a knife was involved in the disturbance, and denied that there was any blood inside the house.
After obtaining a search warrant, officers found "significant amounts" of blood inside the house – on the floor and walls of the kitchen and bedroom. They also saw holes in the bedroom door consistent with a knife being stabbed through the door.
Court documents note that McCracken, 31 years old, has misdemeanor convictions for assault and obstructing a peace officer, and two counts of failure to appear in Yellowstone County.
div[data-mml-type="relatedcategory"]{border: thin solid #e7e7e7;} .categories-right-icon{display: none;} .stories-area > hr{margin: 0px;} .stories-area > iframe {border: white;} div[data-mml-type]{ overflow: hidden; } div[data-mml-status="draft"] {display: none !important;} div.fb-post span, div.fb-post span iframe{max-width: 100%;} div[data-mml-type="twitter"].left, div[data-mml-type="instagram"].left, div[data-mml-type="facebook"].left{ float: left; position: relative; overflow:hidden; max-width:100%;}div[data-mml-type="twitter"].right,div[data-mml-type="instagram"].right,div[data-mml-type="facebook"].right{ float: right; position: relative; overflow:hidden; max-width:100%;}div[data-mml-type="twitter"].center,div[data-mml-type="instagram"].center,div[data-mml-type="facebook"].center{ width: 100% !important; overflow:hidden; text-align: center;}div[data-mml-type="twitter"].center iframe,div[data-mml-type="twitter"].center twitterwidget,div[data-mml-type="instagram"].center iframe,div[data-mml-type="facebook"].center iframe{ margin: auto !important;}div[data-mml-type="facebook"].center > span{ margin: auto !important; display: block !important;} .mml-display-none{display: none !important;} div[data-mml-type="gmaps"], div[data-mml-type="youtube"] {position:relative; width:100%; padding-bottom:56.25%;} div[data-mml-type="gmaps"] iframe, div[data-mml-type="youtube"] iframe {position:absolute; left:0; top:0;} div[data-embed-type="clip"],div[data-mml-type="clip"]{position: relative;padding-bottom: 56.25%;width: 100%;box-sizing: border-box;} div[data-embed-type="clip"] iframe { position: absolute;}}div[data-embed-type="social"], {position: relative;padding-bottom: 56.25%;width: 100%;box-sizing: border-box;} div[data-embed-type="social"] iframe,div[data-mml-type="clip"] iframe { position: absolute;}}.frankly-img{max-width:100%;}.mce-item-table{word-break: break-all;}