Tickets for the Eighth Annual Waking the Dead tours at Highland Cemetery, 2010 33rd Avenue South in Great Falls, are now available.
The tours, sponsored by the Paris Gibson Month Celebration Committee in cooperation with the City of Great Falls Park and Recreation Department, will be held Sunday, June 24 at 1:00 p.m. and 3:00 p.m.
Tickets to ride are $15 and to walk are $10. They may be purchased at the Great Falls Public Library, 301 2nd Ave. No., the City Park and Recreation Department, 1700 River Dr. No., and at Kaufmans Menswear, 411Central Ave.
People will be transported by three trailers, pulled by trucks provided by Hoven Equipment. Hay bales for the trailers will be provided by Elliot Merja of Sun River. Those who prefer to walk will accompany the trailers.
Graves to be featured and their storytellers are:
Paris Gibson, Founder of Great Falls David Otey
Harry Mitchell, Mayor of Great Falls Harry Mitchell (grandson)
Joe & Beth Wolf, History Teacher and Community Volunteer Al Getten
George Montgomery, Actor Elliot Merja (nephew)
Governor Edwin Norris, Montana Governor Dirk Larsen
Charles Russell, Cowboy Artist Bill Bronson
VictorArio, Saddle Maker Greg Kinder
Timothy Collins, Early Great Falls Businessman Jerry Schmit
Robert Vaughn, Founder of Great Falls Kory Larsen
Billy Colgan, Pittsburgh Alleghenys Baseball Player Jeremy Watterson
Donald Goodman Holt, World Champion Cowboy Austin Haney
H.P. Rolf, Great Falls Surveyor Ken Robison
Royal Caulfield, WWI Hero Dwight Smith
Tour hosts will be Mary Ann Cosgrove and Norma Ashby.
Cars will park in the field inside the cemetery gate where the three trailers will be waiting to be loaded. Because tour seating is limited, people are encouraged to get their tickets early and be at the cemetery at least 15 minutes before the tours begin.
Tour participants will be given free booklets containing histories of the featured people on the tour, written by Eric Stoverud and Norma Ashby. The booklets are provided by Croxford Funeral Home & Crematory. The storytellers' remarks will be filmed by Max Murray of Murmax Productions with copies given to the storytellers, Great Falls Public Library and to the History Museum, compliments of Montana Granite Industries. The DVD's will also be available to the public for $10.
Each of the featured graves will be marked by a sign donated by Kelly's Signs. The date of the tours is scheduled on the Sunday afternoon closest to the birthday of Great Falls Founder Paris Gibson which is July 1. This year marks his 188th birthday.
Proceeds from the tours will be donated to the People's Park and Recreation Foundation. In the past, proceeds have been used to paint the bandshell in Gibson Park and to purchase trees in Highland Cemetery.
For further information call Norma Ashby, tours chairman, 453-7078 or ashby7@charter.net.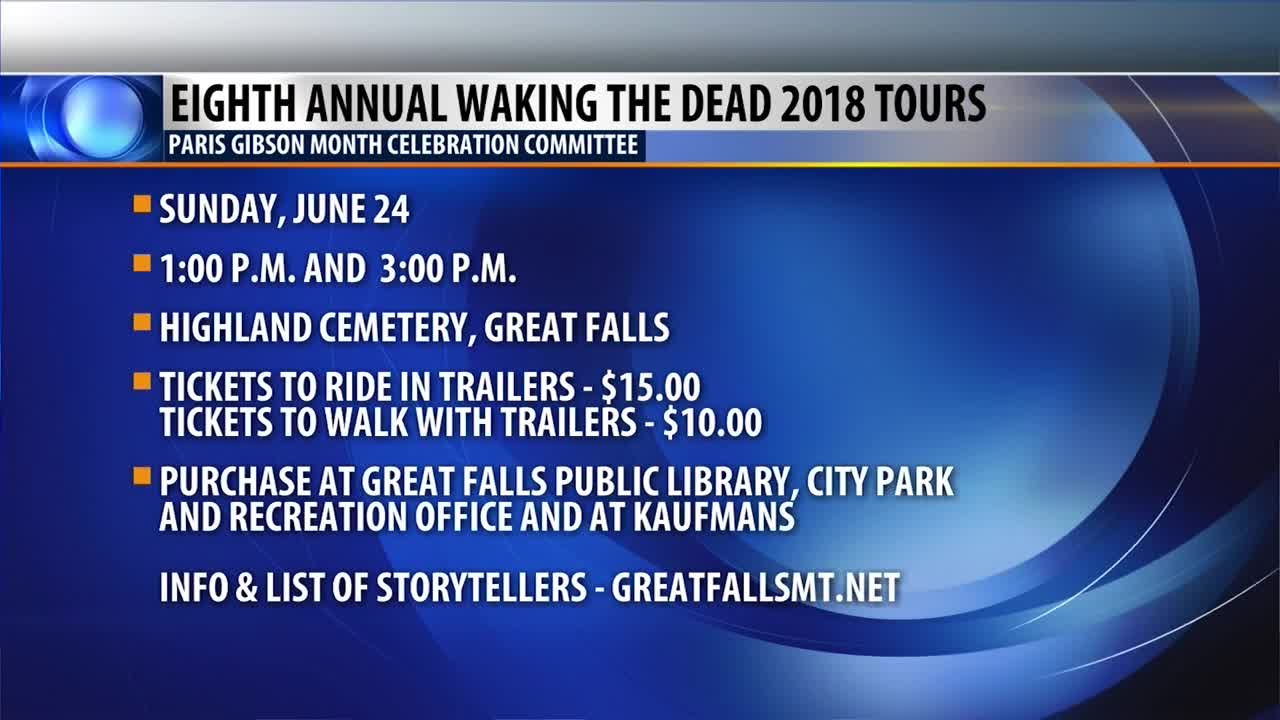 div[data-mml-type="relatedcategory"]{border: thin solid #e7e7e7;} .categories-right-icon{display: none;} .stories-area > hr{margin: 0px;} .stories-area > iframe {border: white;} div[data-mml-type]{ overflow: hidden; } div[data-mml-status="draft"] {display: none !important;} div.fb-post span, div.fb-post span iframe{max-width: 100%;} div[data-mml-type="twitter"].left, div[data-mml-type="instagram"].left, div[data-mml-type="facebook"].left{ float: left; position: relative; overflow:hidden; max-width:100%;}div[data-mml-type="twitter"].right,div[data-mml-type="instagram"].right,div[data-mml-type="facebook"].right{ float: right; position: relative; overflow:hidden; max-width:100%;}div[data-mml-type="twitter"].center,div[data-mml-type="instagram"].center,div[data-mml-type="facebook"].center{ width: 100% !important; overflow:hidden; text-align: center;}div[data-mml-type="twitter"].center iframe,div[data-mml-type="twitter"].center twitterwidget,div[data-mml-type="instagram"].center iframe,div[data-mml-type="facebook"].center iframe{ margin: auto !important;}div[data-mml-type="facebook"].center > span{ margin: auto !important; display: block !important;} .mml-display-none{display: none !important;} div[data-mml-type="gmaps"], div[data-mml-type="youtube"] {position:relative; width:100%; padding-bottom:56.25%;} div[data-mml-type="gmaps"] iframe, div[data-mml-type="youtube"] iframe {position:absolute; left:0; top:0;} div[data-embed-type="clip"],div[data-mml-type="clip"]{position: relative;padding-bottom: 56.25%;width: 100%;box-sizing: border-box;} div[data-embed-type="clip"] iframe { position: absolute;}}div[data-embed-type="social"], {position: relative;padding-bottom: 56.25%;width: 100%;box-sizing: border-box;} div[data-embed-type="social"] iframe,div[data-mml-type="clip"] iframe { position: absolute;}}.frankly-img{max-width:100%;}.mce-item-table{word-break: break-all;}