(MISSOULA) Daniel Grady, the suspect in a hit-and-run crash that left 22-year-old Rebecca Romero dead, appeared in Missoula County Justice Court Tuesday on charges of negligent homicide and failure to remain at an accident scene where a person was killed or seriously injured.
According to court documents, 26-year-old Grady was the driver of the pickup truck that struck and killed Romero early Sunday morning.
Police responded to the scene early Sunday morning and found Romero's body lying in the intersection of Phillips and Shakespeare streets. The impact tore away some of her clothing, and one of her shoes was found in the road. Investigators also determined that at the time of impact, the truck was driving in the wrong lane. Officers say they also found open cans of alcohol in the truck.
Investigators found pieces of a broken headlight at the scene that matched those pieces to a 2003 Chevy Silverado, which led them to Grady's apartment.
After arriving at Grady's apartment, officials began interviewing passengers that were in the vehicle at the time of the accident. In witness statements, they told officers they were aware they hit something. At least one witness told police she saw the victim get hit by the truck. She says they thought about calling the police, but decided not to.
Police determined Grady was the driver and arrested him. Police then attempted to interview Grady who refused to give a statement.
Grady's bond has been set at $100,000 and his preliminary hearing is scheduled for July 3.
---
(JUNE 18, 2018) The Missoula County Sheriff's Office has identified Rebecca Grace Romero as the young woman who was killed in a Sunday morning hit-and-run crash near Lowell School in Missoula.
Romero, 22 years old, had recently graduated from the University of Montana; she hailed from Stockton, California.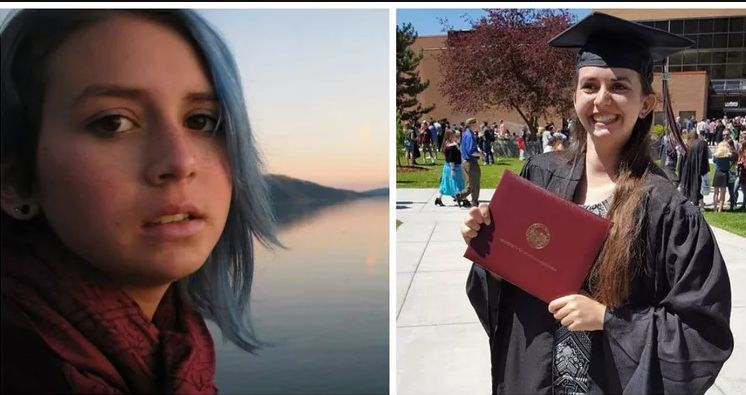 She was found by police and emergency responders in the middle of Phillips Street at around 2:30 a.m. on Sunday. It looked as though Romero had been hit by a vehicle and left in the road.
The Montana Highway Patrol and accident investigators were then called to the scene.
Although Missoula Police say an investigation into the incident is ongoing, 26-year-old Daniel Grady is being charged with felony counts of negligent homicide and failure to remain at the scene.
He is currently being held in Missoula County Detention Center and is scheduled to appear in court on Tuesday.
We contacted Romero's father, who said that his daughter was set to enter basic training with the Montana National Guard on August 1.
"We have so few words to describe our feelings of having her life ended so needlessly," Romero said. "We are also saddened for the 26 year old driver and his passengers who lives are also changed forever. All we can say to them right now is this…We hope you have a chance to have daughters in your live's. We hope you get the opportunity to raise them experiencing the joy, hurts, and love that goes into guiding them to be fantastic people who love the world around them. Only then, will you understand what we have lost with Rebecca's death."
Reported by By Connor McCauley
div[data-mml-type="relatedcategory"]{border: thin solid #e7e7e7;} .categories-right-icon{display: none;} .stories-area > hr{margin: 0px;} .stories-area > iframe {border: white;} div[data-mml-type]{ overflow: hidden; } div[data-mml-status="draft"] {display: none !important;} div.fb-post span, div.fb-post span iframe{max-width: 100%;} div[data-mml-type="twitter"].left, div[data-mml-type="instagram"].left, div[data-mml-type="facebook"].left{ float: left; position: relative; overflow:hidden; max-width:100%;}div[data-mml-type="twitter"].right,div[data-mml-type="instagram"].right,div[data-mml-type="facebook"].right{ float: right; position: relative; overflow:hidden; max-width:100%;}div[data-mml-type="twitter"].center,div[data-mml-type="instagram"].center,div[data-mml-type="facebook"].center{ width: 100% !important; overflow:hidden; text-align: center;}div[data-mml-type="twitter"].center iframe,div[data-mml-type="twitter"].center twitterwidget,div[data-mml-type="instagram"].center iframe,div[data-mml-type="facebook"].center iframe{ margin: auto !important;}div[data-mml-type="facebook"].center > span{ margin: auto !important; display: block !important;} .mml-display-none{display: none !important;} div[data-mml-type="gmaps"], div[data-mml-type="youtube"] {position:relative; width:100%; padding-bottom:56.25%;} div[data-mml-type="gmaps"] iframe, div[data-mml-type="youtube"] iframe {position:absolute; left:0; top:0;} div[data-embed-type="clip"],div[data-mml-type="clip"]{position: relative;padding-bottom: 56.25%;width: 100%;box-sizing: border-box;} div[data-embed-type="clip"] iframe { position: absolute;}}div[data-embed-type="social"], {position: relative;padding-bottom: 56.25%;width: 100%;box-sizing: border-box;} div[data-embed-type="social"] iframe,div[data-mml-type="clip"] iframe { position: absolute;}}.frankly-img{max-width:100%;}.mce-item-table{word-break: break-all;}