WEST RIVERSIDE – Missoula Rural Fire District crews were called Friday afternoon to a fully-involved house fire that appears to have heavily damaged a home in West Riverside near Bonner.
The fire on Zaugg Drive was reported shortly after 3 p.m. Friday, with MRFD firefighters calling for help from as far away as Clinton and Missoula.
The fire appears to have started in a garage area and spread to the house.
The building was fully engulfed in flames when fire engines arrived, with flames visible from Interstate 90 to the south.
Law enforcement shut down traffic to the area while fire departments work to control the blaze and keep it from spreading in these hot, dry conditions.
One firefighter was treated for heat exhaustion while battling the fire.
Crews also faced challenges with getting enough water to the scene because the nearest hydrant is roughly one mile away.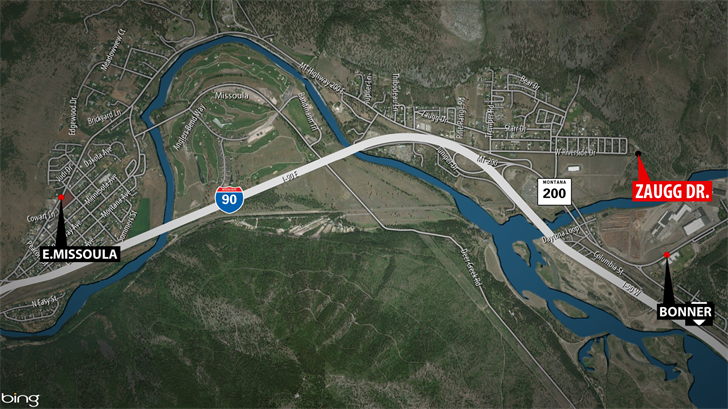 div[data-mml-type="relatedcategory"]{border: thin solid #e7e7e7;} .categories-right-icon{display: none;} .stories-area > hr{margin: 0px;} .stories-area > iframe {border: white;} div[data-mml-type]{ overflow: hidden; } div[data-mml-status="draft"] {display: none !important;} div.fb-post span, div.fb-post span iframe{max-width: 100%;} div[data-mml-type="twitter"].left, div[data-mml-type="instagram"].left, div[data-mml-type="facebook"].left{ float: left; position: relative; overflow:hidden; max-width:100%;}div[data-mml-type="twitter"].right,div[data-mml-type="instagram"].right,div[data-mml-type="facebook"].right{ float: right; position: relative; overflow:hidden; max-width:100%;}div[data-mml-type="twitter"].center,div[data-mml-type="instagram"].center,div[data-mml-type="facebook"].center{ width: 100% !important; overflow:hidden; text-align: center;}div[data-mml-type="twitter"].center iframe,div[data-mml-type="twitter"].center twitterwidget,div[data-mml-type="instagram"].center iframe,div[data-mml-type="facebook"].center iframe{ margin: auto !important;}div[data-mml-type="facebook"].center > span{ margin: auto !important; display: block !important;} .mml-display-none{display: none !important;} div[data-mml-type="gmaps"], div[data-mml-type="youtube"] {position:relative; width:100%; padding-bottom:56.25%;} div[data-mml-type="gmaps"] iframe, div[data-mml-type="youtube"] iframe {position:absolute; left:0; top:0;} div[data-embed-type="clip"],div[data-mml-type="clip"]{position: relative;padding-bottom: 56.25%;width: 100%;box-sizing: border-box;} div[data-embed-type="clip"] iframe { position: absolute;}div[data-embed-type="social"] {position: relative;padding-bottom: 56.25%;width: 100%;box-sizing: border-box;} div[data-embed-type="social"] iframe,div[data-mml-type="clip"] iframe { position: absolute;}.frankly-img{max-width:100%;}.mce-item-table{word-break: break-all;}