A vehicle was found in the Missouri River this week, however, the Cascade County Sheriff's Office does not believe it belongs to Tammy Goff.
The Sheriff's Office has been searching the Missouri River for the last six days.
Goff was last seen at her home in Great Falls on July 12.
Based on a sonar image by Ralston and Associates of Idaho, a vehicle was located in the Missouri River near the intersection of Wilson Butte Road and Eden Road, according to Cascade County Undersheriff Dave Phillips.
A diver from Lewis & Clark Search and Rescue inspected the vehicle. The Sheriff's Office does not believe it is Goff's 2008 black Chevy Colorado.
Cascade County Search and Rescue also assisted during the search.
Authorities believe the vehicle that they found may have been stolen, and are investigating. We will update you if we get more information.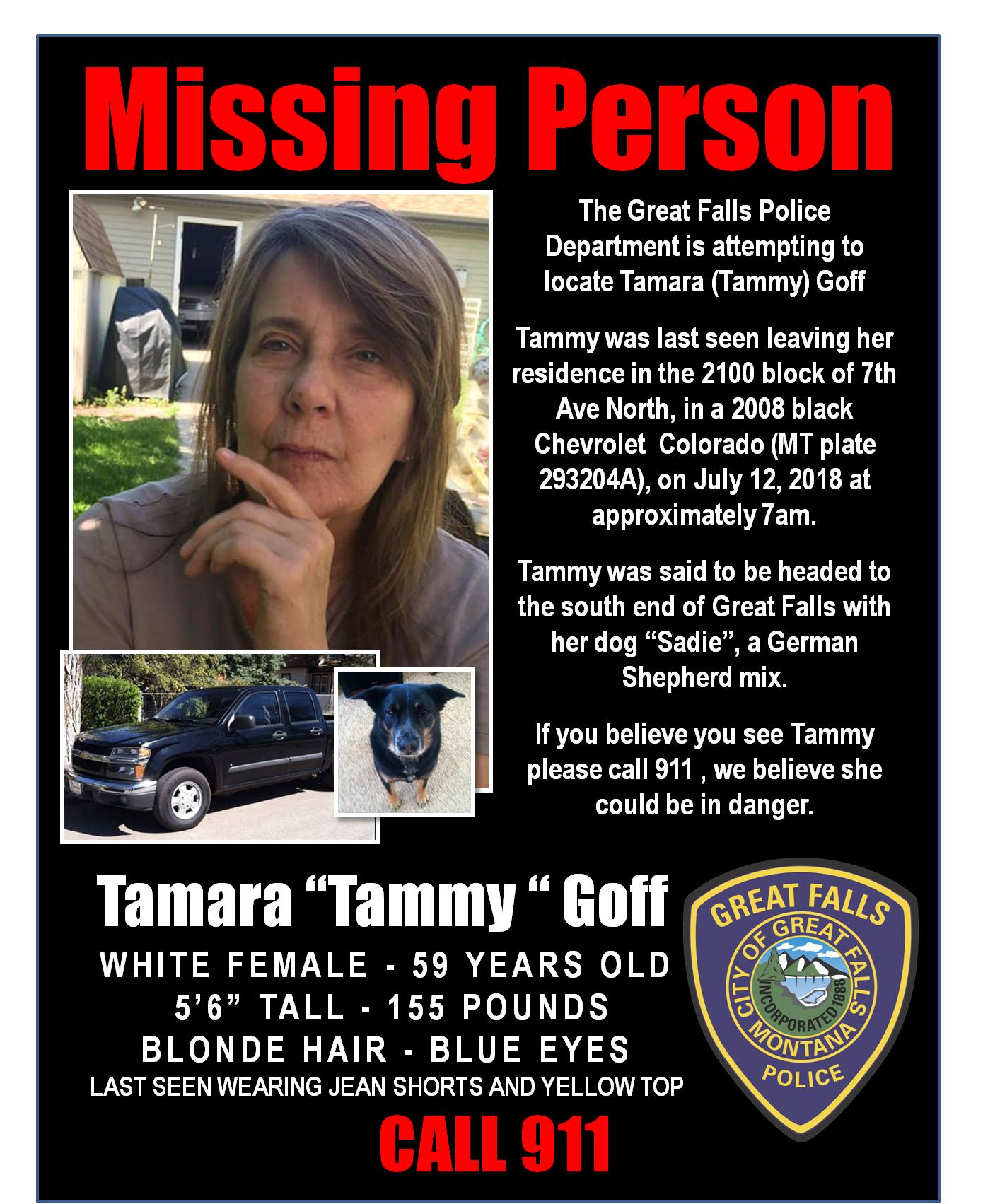 ---
(July 30, 2018) The search for Tamara Goff continues in and around Great Falls; she was reported missing on Friday, July 13th.
The Great Falls Police Department posted the following information on Facebook on Monday, July 30th:
HELP BRING TAMMY HOME! Sergeant Mitchell reports the investigation into Tammy Goff's disappearance continues. We did confirm a sighting of Tammy's vehicle on Lower River Road approximately an hour after she left her home.
And, after being found on Hawk Drive one day after Tammy's disappearance, Sadie, Tammy's dog, is in good health and safe with Tammy's family.
We encourage everyone out camping, fishing, hiking, boating, or just visiting the remote areas of Cascade County, or the surrounding counties, to keep any eye out for Tammy's vehicle, a black Chevrolet Colorado with Montana license plate 293204A. If you believe you see the vehicle please do not approach but call 911 or the closest law enforcement agency. We will continue to exhaust all possible leads.