HELENA — Idaho detected invasive mussel larvae in the Snake River in September in a scare that could cost the state millions if gone unchecked.
Fortunately for us next door, Montana has not detected any mussel larvae for several years in any water despite inspections that do turn up mussel-fouled boats.
"We look at anchors, live wells, the inside of the boat, the outside of the boat we're looking for no mud, no weeds, no standing water," Kathi Montgomery, a biology specialist for Montana Fish Wildlife and Parks, said.
Montgomery works with her husband at the HWY 12 mandatory boat stop outside of Helena to monitor for evidence of aquatic invasive species like the hitchhiking quagga or zebra mussels.
"We have a wash unit here where we can do basic de-contaminations. When a boat has mussels on it, it requires a little bit more. So we get off what we can, but then that boat goes into a lockdown phase," Montgomery explained.
So far this year, 45 mussel-fouled boats have been intercepted by the AIS network.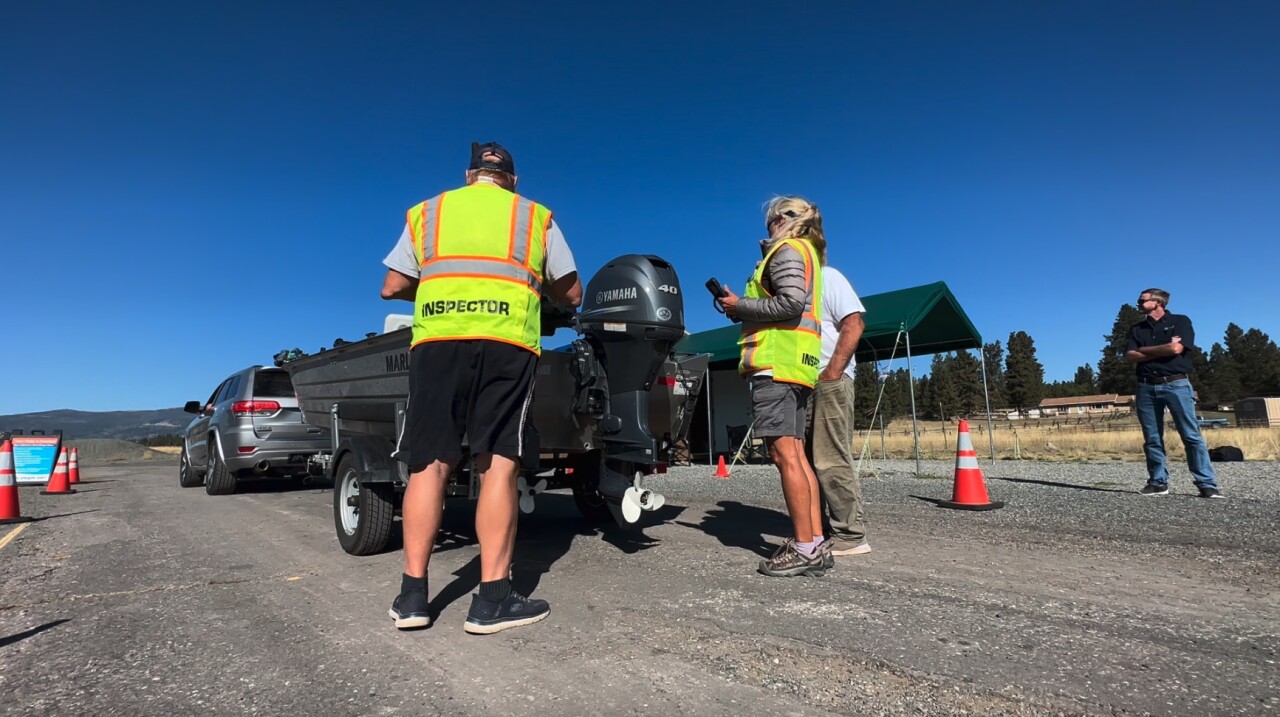 "It's been a great season, inspected over 88,000 boats this year," Tom Woolf, FWP AIS Bereau Chief, told MTN News.
"During Covid, we saw a lot of staycationers that just had nothing else to do, so they got out in the water because it was lockdown time," Woolf explained.
With that uptick in recreation, a spike in boat inspections followed. In 2021, nearly 180,000 inspections turned up a record 61 mussel-fouled boats.
Originally stemming from Europe, quagga and zebra mussels were introduced to the U.S. in the 1980s and have since infested major bodies of water. The species represent a serious threat to ecological health. They smother surfaces taking away important real estate for native shells and sallow up available food for larval fish. Invasive mussels can disrupt entire food chains.
The following map shows current distribution of invasive mussels but does not include the 2023 positive finding in Idaho's Snake River.
All that comes with infrastructure impact.
"Basically any hard surface they will stick to and start piling up on top of each other," Woolf said.
People who recently visited infested lakes sometimes transport mussels unknowingly back to Montana. The invertabrates do not travel upstream naturally.
"Some of them are from the southwest like Lake Havasu, Lake Mead...and what we see the Great Lakes in particular is a lot of people are going there to purchase boats because they're less expensive back there and bringing their boats to Montana. In a couple of days, it's here ready to launch with live mussels and could impact all our waters," Woolf said.
The inspection network operates in some capacity through late-October, and it's an important step for keeping Montana's waters clean and pristine. But it's not the full picture for prevention. For that, we have to take a much closer look.
In Helena, AIS lab technicians keep a watchful eye on Montana's waters by analyzing 15-20 samples per day from around the state. That's around four thousand samples processed per year.
The tiny mussel larvae are relatively easy to identify on this microscope using cross-polarized light.
"The calcium carbonate in their shell glows," Keegan Effertz, Lead AIS Lab Technician, explained.
So most things in the water column don't have much calcium in them. And on top of veligers - which is what the larval state of mussels is called - on top of them glowing, they glow in a very certain pattern called the 'Maltese Cross' and nothing else really shows that pattern. So it makes it a very easy way to find a needle in a haystack," Effertz said.
But no needle, or mussel, has been identified in any Montana water body for quite some time.
"I've never seen one in a sample from Montana," Effertz said.
That's a positive trend after suspected mussel spawn were identified at Canyon Ferry outside Helena and Tiber Reservoir outside of Chinook in 2016.
Fast forward to today, and it's been over five years clear of any more mussel evidence at either of those locations or any other Montana waterway.
Despite the lack of findings, Idaho's detection of the invasive species serves as an important reminder that the pests still very much pose a risk to the western region.
That's why it's so important to clean, drain and dry those boats. More here: